How to Enhance an Art Gallery Video
See how Music Cellar and SFX Cellar can level up your projects in this example, as we upgrade some video content for an art gallery
In this article, you'll learn how to do transform stale footage of a place like an art gallery, resulting in fresh and fitting content! Here's a quick comparison showing the power of some well-placed SFX and music:
Take a look at this short video showing some of the pieces on display in a modern art gallery. While you're watching, think about what kind of background music and sound effects might be suitable for a video like this.

This kind of video content is ideal for use with our royalty free subscription services Music Cellar and SFX Cellar, which provide creators with premium sounding catalogs of background music and sound effects, respectively.
The clip is well shot and looks great, with sweeping closeups and interesting transitions. No video is complete without sound though, and there's plenty we can do to optimize this project.

Imagine that this content is being used for promoting the art gallery, and will be embedded on their website's home page. The gallery would want the video to convey the right atmosphere, so that anybody watching might consider paying the place a visit.
Ambient sound effects can be used to create such an atmosphere, alongside a well chosen background track, so that's what we'll add to the video!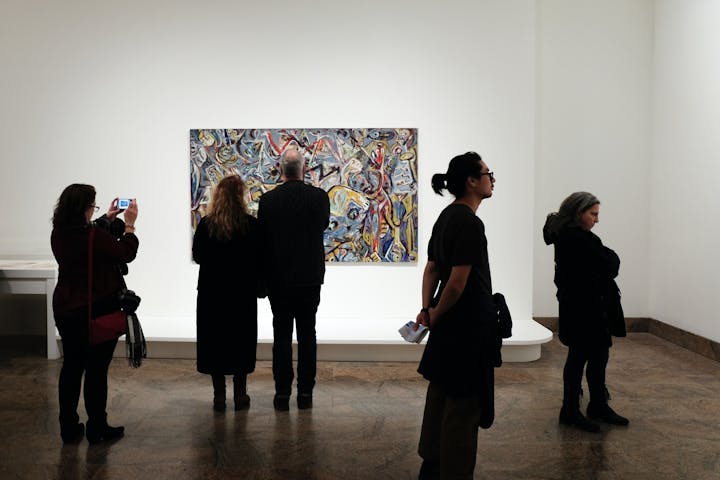 Step 1 : Choose sound effects for ambience
The goal when trying to create ambience with SFX in a video is to aim to match sounds to the character and atmosphere of the shot location. Look at the space in the video and ask yourself some questions about it. Is it big or small? Is there people in it or is it empty? Is it inside or outside? 
Profiling the location in this way can help you to figure out what kind of sound effects will provide realistic ambience that will match the video. An earlier article in this series, How We Enhanced a Pub Promo Video, includes some SFX for ambience and is definitely worth checking out also.


Background crowd ambience
Art galleries are usually large spaces with lots of hard, reflective surfaces, and the one in our video is no different. That means we can use anything that sounds too dry or up front for our background ambience. By typing in "museum" into the search bar on SFX Cellar, we get a list of 16 high quality sound files. Every file on SFX Cellar has a description beside it, along with a play button to demo the sound, so we can test the sound effects out as we go. 
We'll select "Museum, Reverberant room tone, Interior ambience, Constructions" as our main background ambience. Although there are some unwelcome construction noises at times in the file, most good NLE software allows you to trim audio and choose only the parts you need for your video. Check out our guide on Trimming, Retiming and Adding Fades on Adobe Premiere Pro for more tips on how to do this. 
Take a listen to the isolated audio of the ambience that we've added below:
Sound effects for movement and transitions 
As well as general background ambience, we can add some SFX to create extra realism. It's as simple as finding a sound effect that matches up with people or things in the video that are moving or carrying out any other action that would be accompanied by a sound. 
For example, at 0.08 seconds in this video there is a woman walking along a hard floor, which is a fairly classic sound effect moment. In the Foley Sound Effects category on SFX Cellar you'll find a Footsteps sub category containing 452 sound effects of people walking. A brief scan through our options and we'll go with "Footsteps on ceramic tile in high heels walking in a loop", and match it up with the woman's motion.
We can also use sound effects to match the transitions between shots in the video, which is different compared to our previous SFX work in that it is non-diegetic sound (sound whose source does not appear on screen). We don't have to use cheesy whoosh sounds or anything like that, in fact we'll use the sound of a camera taking photos as our transition sound effect, as it will fit the overall tone of the art gallery video. In the Camera Sound Effects sub category of Technology Sound Effects we found "Canon sd63 digital camera on and off in a series", which you can hear below:
Step 2 : Choose the right background music 
The final step of the process of enhancing this art gallery video is adding background music. Some light piano will do here, as we don't want anything too intense, so we'll jump into the Sentimental Piano album on Music Cellar and choose "Luminous Rain" as our background track. The music has an elegant and refined character that is suitable for our 40 second trip around the art gallery.

Watch the final result of our work below, with sound effects for ambience, movement and transition added, as well as the gentle background music. We think you will agree that these additions have given the video a polished and professional feel, and created a sense of atmosphere that makes the art gallery come alive! 
So, what are you waiting for? Jump into Music Cellar and SFX Cellar today, and start taking your own projects to the next level.
August 11, 2021
Related articles
In this example, see how you can use some high quality sound effects from SFX Cellar to enhance a vlog
Learn the how to pick the perfect music for your videos, without any copyright issues
Learn how to edit a video to the beat of the music in Premiere Pro, or any other video editor