How to Enhance a Christmas Story with SFX
Learn how to improve your content with a touch of holiday spirit! With some christmas sound effects, anything is possible. 
Take a look at the video below, which features a recording of a festive short story by a voice actor. It's a descriptive passage that paints a picture of a heartwarming winter scene. The audio has been recorded with the right equipment, but after reviewing the final edit there's definitely more jolliness to be had! How? With the help of our premium royalty-free sound libraries Music Cellar and SFX Cellar, of course!  
From a technical perspective, there's not a whole lot wrong with this video. As you can see from the footage, the voiceover was recorded with a microphone isolator that filters reflections from the room. This particular isolator has an integrated pop filter as well, so we don't have to remove any annoying plosives.

So, with a well recorded voiceover and a lovely festive jumper on display – what needs to be improved? Well, we can find a point in the video to add some holiday music from Music Cellar. Background music is one of the best ways of enhancing a video, and the recently revamped Music Cellar has plenty of premium rights-cleared tracks for download, available with a free subscription.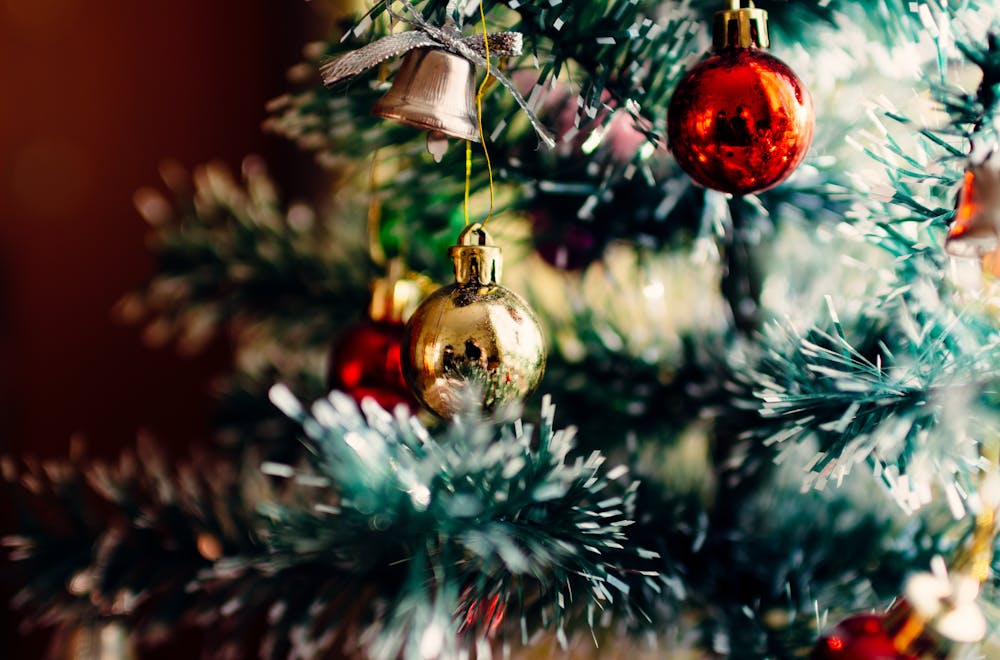 As well as this, the narrative of the story can be enhanced with sound effects. There's a lot of description of sights and sounds in the story, which means we can easily match sound effects to different moments in the video, effectively creating an extra layer of engagement for the audience. SFX Cellar is filled to the brim with sound effects and divided neatly into categories, so it should be simple to find what we're looking for.

Adding sound effects to your videos is simple, provided you know how. All you really need is video editing software, and access to sound effects! Once you've imported your sound effects into the video editor, you can drop the audio clips onto the timeline below the video and position them as needed. For more information on how to do this, check out our guide to adding sound effects to YouTube videos.
Let's start adding sound effects to the video, working through it from the beginning. The first sentence is "I stared into the fire as it crackled and spat, before hissing into life", so we'll add the sound of a fire roaring into life. We'll create this sound effect by adding two bits of audio together, 'Whoosh, fire with a flame whipping by, high' and 'turn on the gas'. With both sound effects downloaded, we can join them together in the video editor timeline. 
Next, we'll match sound effects to the speaker's reference to turkey "sizzling away" and the sound of the kettle boiling. In the Food and Drink category on SFX Cellar there's plenty of options for sizzling food – let's download a gentle one: 'Food, Cook, Sausages, Fry, Sizzle, Steady'. In the same category there's a sound effect of a boiling kettle, so we'll download that also and add it into the audio timeline.
Underneath the boiling kettle, we'll also mix in the sound of children laughing, as the voice actor mentions it in the next line. We'll take Four girls laughing out loud from Human Sounds, and turn the volume down on the clip in our video editor to make it seem like the sound is coming from far away. This involves right-clicking on the audio clip and adjusting the audio gain. 
As well as this, we need some music to soundtrack the "festive music blaring from a new speaker". Heading over to Music Cellar, we'll dip into the Jazz category and download Night in Venice, a smooth, lounge jazz tune. We don't need all of this track, but we can crop it in the video editor so that it starts at this point and continues to the end of the video, to give it a little extra ambience throughout. Remember, if you're using Premiere Pro, you can open up the Effects tab and add fade options to your music from the Audio Transitions section. 
We're halfway through now, and the audio narrative is really taking shape. Back to SFX Cellar, because next up is Rocky, the "beloved family dog". He gets voiced by Dog in the mountains barking curiously x2, from the Animal Sounds category. When you're tucking sound effects into the background of a video, and they're also accompanied by music, it's less important that the ambience of the sound effect exactly matches the video. The sound of dogs barking in the mountains works fine on this occasion.
Now for the tree! In the story, Rocky knocks off a bauble, which has to be placed back onto the tree. It's unlikely we'll get the exact sound we're looking for, so we'll have to make a composite of a few different sounds, as if we were a foley artist. SFX Cellar has a large collection of foley sounds, so let's take the sound of a glass ball rolling, and mix it with the sound of logs rolling on concrete. This might seem like a strange combination, but it works! For the bauble being placed back onto the tree, we'll use 'paper bag of lozenges rustling curiously' to mimic tree branches rustling. Finally, we'll line up a shimmering sound effect from the Sound Design Sound Effects category with the moment that the tree lights come into focus in the video.
The last scene in the video describes a light snow outdoors. We'll add a touch of winter wind for outdoor ambience, and some church bells to top it off. And with that, our winter story is complete! When we export out the video in our video editor, the SFX will be encoded into the video and end up in the final file.
We used quite a few sound effects to enhance this excerpt from a festive short story, and even mixed multiple pieces of audio to create composite sounds. In the end, our soundscape matches the video narrative, and makes the entire video feel a lot more alive. Check out the final result below:
So, next time you need to enhance your content with extra audio, make sure you're using Music Cellar and SFX Cellar. With a mix of free and pro subscriptions, you're sure to find a package that works for your needs. For more ideas and helpful tips, check in on the Get Inspired section of our blog!
December 06, 2021
Related articles
Learn how to weather the elements and make your outdoor recordings as clear as possible in this example 
Learn how to use voice modulation effects to sound like the North Pole's most famous citizen in this example 
Learn how to bring holiday spirit to your communications in this example