How to Make a News Report Video
Learn how to create a high energy news report with SFX and background music in this example 
Check out the video below, featuring a news report covering a light hearted story about a woman getting on the wrong flight. It's the kind of thing that could work as a comedy sketch, or as a humorous segment in a vlog or similar type of content. Trouble is, the video is missing a few key audio elements. Can you guess what we're going to add?

Visually, the video has all the right elements for a news report. It's got a scrolling text graphic at the bottom, a few nice transitions between some of the filler shots, and some direct-to-camera narration. 
If we're to focus on the audio though (which is what we're good at!), there's definite room for improvement. Aside from what's already in the video, we can also add some extra audio from SFX Cellar and the new and improved Music Cellar that will help to create the news report style that we're looking for. News reports often have background music mixed in at a low level to add excitement to the piece, and there's definitely an opportunity to throw in some sound effects at certain moments in the video.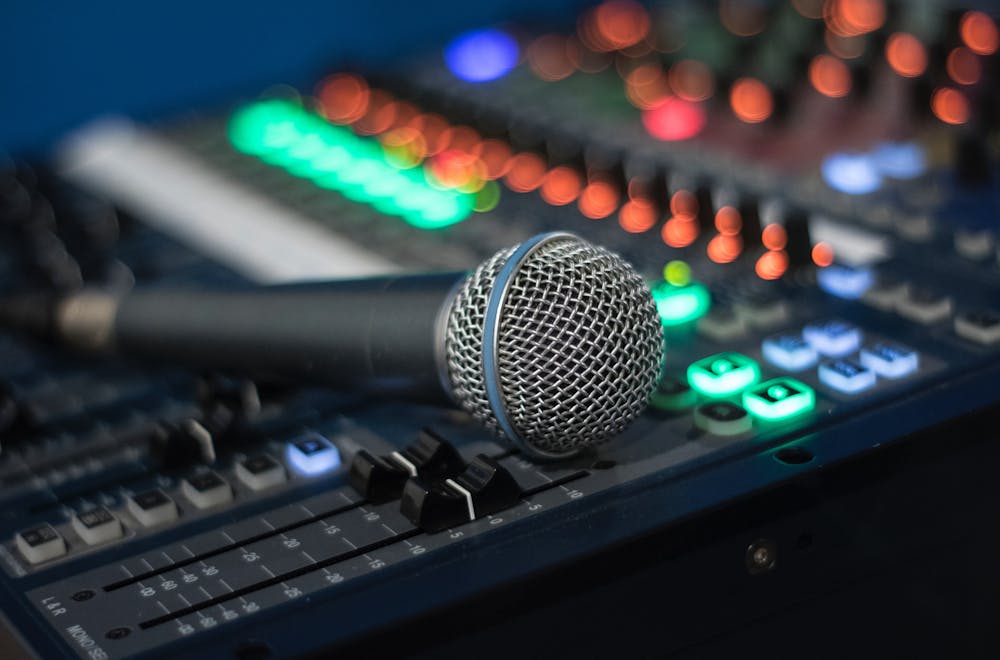 SFX Cellar and Music Cellar are both available as either free or premium subscriptions. This means that you can dive into our audio catalogues for free, and upgrade your subscription when you need to access high quality WAV versions of the sounds in each library. 
Music Cellar
Breaking news needs breaking tunes, so let's find ourselves some background music to go along with the video. Music Cellar has a wide range of rights-cleared tracks that are divided into genre and mood collections, making it easy to find something to fit your project.
SFX Cellar
As well as the background music we added from Music Cellar, we can use sound effects to create extra atmosphere in the video. Sound effects are a great way of giving the listener extra audio material for their entertainment, and can be used to highlight certain moments in a video, create suspense or comedy, or simply add to an overall style.
Some of the clips in this video have transitions that sweep from one scene to the next with a flick of the camera. We can use 'whoosh' sound effects to highlight these moments. SFX Cellar has a Sound Design Sound Effects category, with a sub folder called Sweep and Transition Effects, so that's where we'll head. Inside, there's plenty of sweeps and whooshes, so we'll cycle through to find one that matches the length of the transitions in our video. 
Next, we can add some extra sound effects towards the end of the video, when the map graphic comes on screen. In this section, some marks are drawn on the map to show where the passenger flew from, so why don't we accentuate them with some beeps? Again, the Sound Design Sound Effects category is the most suitable category for our needs here, and in the Beep and Bleep Sound Effects subfolder we'll download some gentle beeps for our graphic.
Finally, we'll finish off the video with an airplane sound effect, to match the footage in the video of the plane coming in to land. Airplane Sound Effects, in the Vehicle Sound Effects category, is full of different plane sounds, so let's choose one that has the sound of a plane landing.
After adding in the sound effects and background music on our video editing software, we've got a finished video. Check the video out below to see how much more entertaining we've succeeded in making it! The background music is perfect for a news report style video, and the sound effects make the entire package feel a little more engaging. 
This type of audio work is simple, but as you can see from what we managed to achieve today - it's hugely effective. Make sure you're using the newly revamped Music Cellar and SFX Cellar in your next project and for more ideas and helpful tips, stay tuned to the Get Inspired section of our blog.
December 27, 2021
Related articles
Learn how to improve your content with a touch of holiday spirit! With some christmas sound effects, anything is possible. 
Learn how to bring holiday spirit to your communications in this example 
Learn how to create atmosphere in your content with background music and well placed sound effects in this example