Fix Your Audio Fast with an Intelligent Repair Assistant!
Discover how the intelligent Audio Clean-Up Assistant quickly fixes some troublesome audio in this example!
Keep reading to find out how.
This short clip features an actor doing test recordings for a radio drama. Unfortunately the audio has been captured with some flaws that make for an unimpressive listening experience. Hear it for yourself: 
Thankfully, the Audio Clean-Up Assistant can detect these issues in a few seconds and suggest an audio repair strategy to tackle them! That will give us a perfect, quick starting point for our editing process. It's especially useful for clips like these, where hours upon hours could be wasted by seeking out each problem; just use an intelligent Assistant, instead.
But first, What Can the Audio Clean-Up Assistant Do?
The Audio Clean-Up Assistant is the best way of working with the full ERA Bundle range. If you need to remove reverb, tame plosives, EQ dialogue, or deal with just about any other audio task you can think of, dropping the Assistant onto a track in your editor is an excellent place to start. Rather than switching back and forth between multiple plugins, you can control each of your tools in the same workspace. Creating chains like these make it easy to stay on top of the changes you're making, and you can even save your work as a preset to load anytime you need it in the future:
The one feature that will save you the most time, however, is the intelligent Assistant Mode. 
The Audio clean-Up Assistant uses Machine Learning to listen to your unedited voice track. By analyzing audio content and characteristics, the Assistant can then automatically generate a plugin chain in seconds. Think of these suggestions as an expert diagnosis - your job is to follow the prescription, make a few adjustments of your own if you need to, and rapidly gain a fully optimized track!
Going back to our unedited audio example, the recording has a number of issues that need to be ironed out. There's a really distracting hiss caused by the input gain on the recording equipment, and the dialogue just isn't cutting it. Luckily for us, thanks to the new Assistant we don't have to be audio experts to know what to do next! We didn't even really need to detect that hiss, as the Assistant will do it for us. 
The first thing we'll do is load up the Audio Clean-Up Assistant on the track. Hitting the orange Assistant button instructs the Assistant to analyze the audio, which only takes a few seconds. 

After detecting the problems in the recording, the Assistant immediately suggests a plugin chain for us to work with. Included in the chain are Noise Remover, De-Esser, De-Breath and Voice Leveler. (P.S. We've also saved the final chain as a preset, which you can find at the bottom of the article)

Without even touching any of the settings on the plugins, there's a massive improvement in the quality of the audio already. 
The background hiss has been knocked out entirely, and loud "esses" and breath noises in the recording have been greatly reduced. 
The addition of Voice Leveler in the chain has also resulted in a much more even dialogue track, as the peaks and troughs of the actor's performance are all brought in line.
Perfecting the result and making micro-adjustments
The Assistant excels at providing a superfast starting point to make your tracks the best they can be. It's up to you at this point whether you're happy with what you're hearing, or if you want to do a bit of fine tuning. 
De-breathing is often a matter of personal taste, and in this case it might be nicer to remove a little more of the breath noise in between words. We'll crank the Processing knob on De-Breath by 10% to make it work just that little bit harder.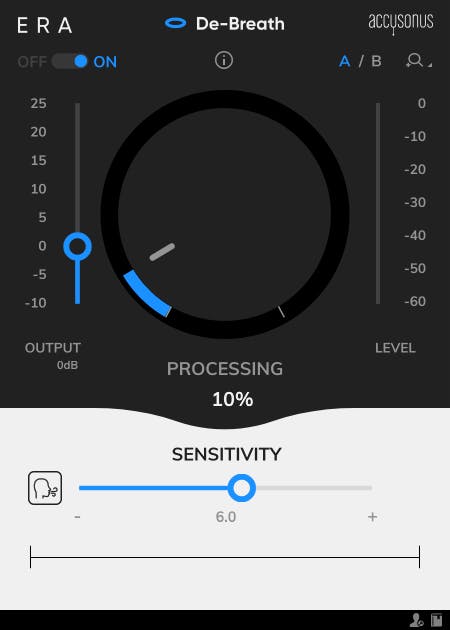 We're happy with the other repair elements automatically applied, so let's add a bit more gravitas to the actor's voice by adding Voice Deepener to the plugin chain. Voice Deepener adds depth and richness to dialogue tracks - perfect for a radio drama! 
Watching the full clip below featuring the processed audio, you can instantly hear the difference from before. The actor's voice is rich, even and smooth, and there's absolutely no sign of that annoying background hiss! Best of all, the improvements were made in seconds, without having to diagnose every individual problem in the audio track and painstakingly trial plugins to fix them.
September 27, 2021
Related articles
Read about the latest version of the ERA Bundle: ERA 6! Info on ERA De-Breath and Audio CleanUp Assistant, plus SFX Cellar 2.0, Voice Changer and Music Cellar
Recording vocals in Audacity and running into a whole load of annoying 's' sounds? Learn how to get rid of them with our helpful guide!
Looking to improve lower resolution video content? Check out our guide on upscaling video!