Your subscription just got better: Check out the improved Audio Clean-Up Assistant, our new coach marking system, & more
Welcome to our first update of 2021. We're excited to share improvements, initiatives, and new offerings with you throughout the upcoming year!
Reorder slots in Audio Clean-Up Assistant
As users of our Audio Clean-Up Assistant already know, this handy tool makes your workflow more efficient by creating chains of powerful ERA tools.
For example, you can quickly load up a chain with Voice Leveler, De-Esser, and Voice Deepener, giving your sound a professional, podcast-ready polish in seconds. 
In addition, you can save really useful audio repair chains for future use. So, as you edit each consecutive project, your workflow gets faster and faster.
Alternatively you could simply use one of our many pre-built chains. Designed by professional audio engineers, these presets will save you loads of time in many common cases. Of course, you can always start with these, then tweak them to your personal preferences.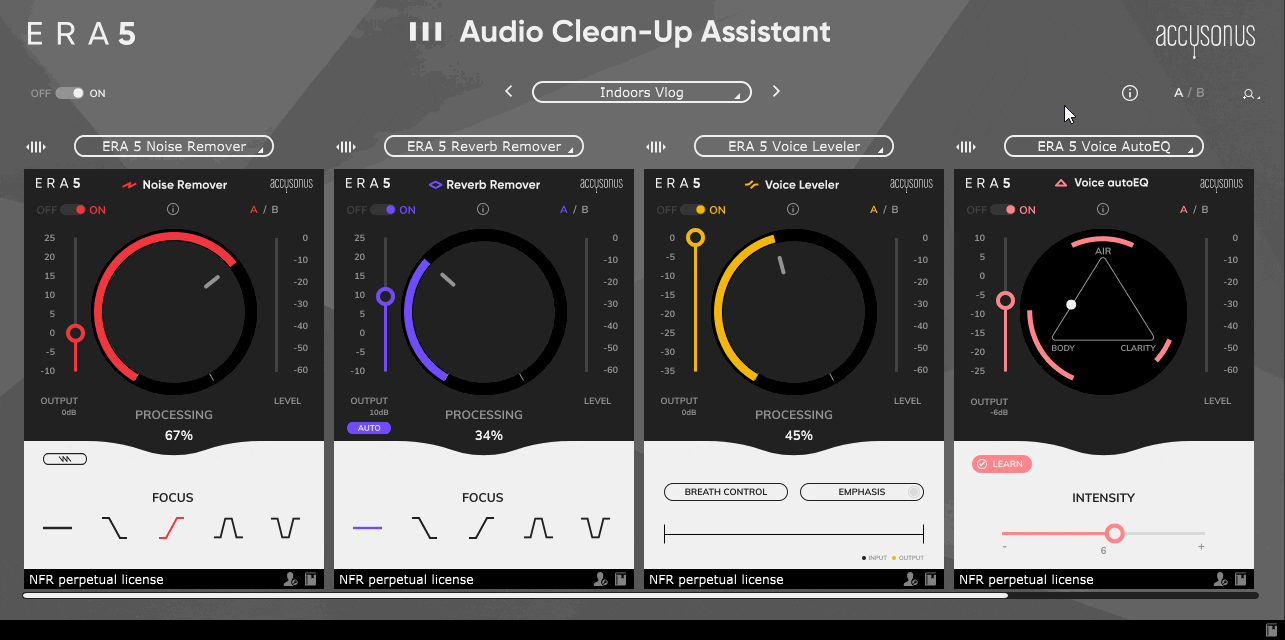 With these easy-to-use reordering slots, you can hear how the chain sounds when reordering your ERA tools.
With so many ERA plugins, it's easy to become overwhelmed. That's why we've added more information and tips to each tool, making it easier to understand what the various controls do. No more pushing buttons and hoping for the best!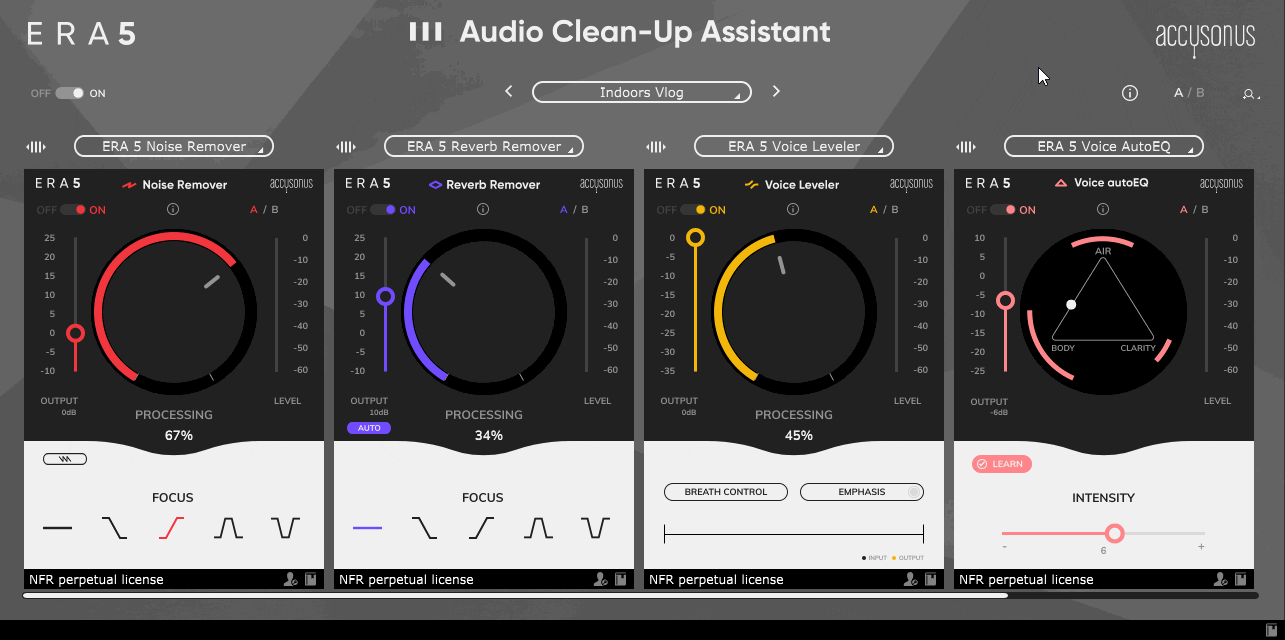 Resizing Audio Clean-Up Assistant
Everyone works with different monitor sizes and resolutions, so it's important that your audio tools respect this. We've improved the Audio Clean-Up Assistant resizing experience. Now, you can work more efficiently, be it on a laptop screen, or shiny 4K monitor.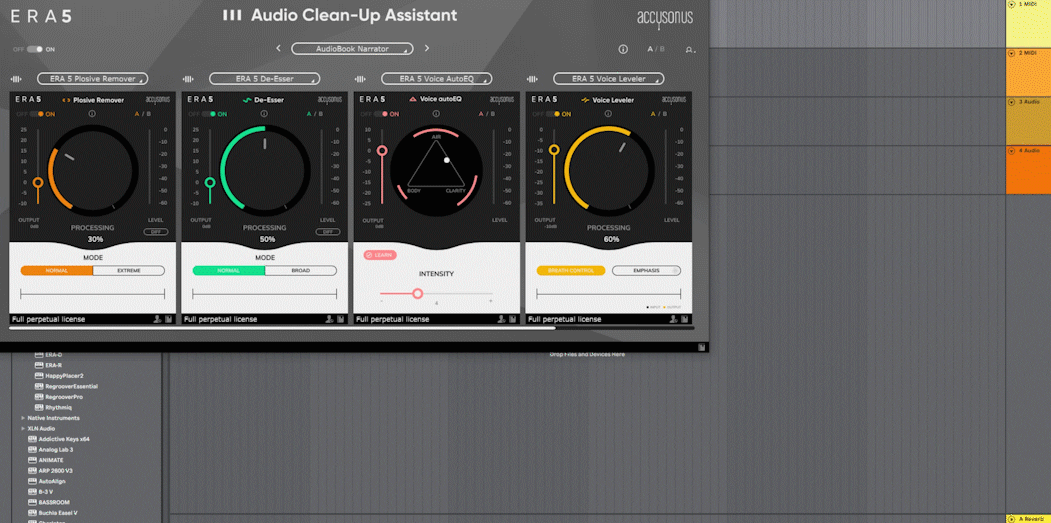 Is your audio too quiet, yet you don't have time to reshoot your video? Don't worry, Mauvio's new Boost filter automatically finds and applies the perfect loudness for your video, without adding distortion. 
It works so well that you may not even notice that you had a problem in the first place! As soon as a video is imported into Mauvio, Boost inspects it carefully and adjusts it to the correct level, every time. 
Mauvio is available now for iPhone and iPad. Discover Mauvio
The SFX Cellar free plan is always packed with professional, high-quality and royalty-free sound, but it just got even better! Our audio technology experts and curators have been working hard to bring you more sounds than ever before.
We know how frustrating bugs are. After feedback from our community, we've improved the stability of the ERA range in Final Cut pro on macOS Catalina. We've also fixed various bugs in several other hosts. As a heads up, we're also working to bring enhancements to Big Sur and M1 in our future releases.
In support, even small changes can save you time. That's why our customer team have been working hard to keep the knowledge base fresh and up-to-date. This is the go-to place if you have any questions about any of our products.
We've added loads of new information recently, including some in-depth articles on our Room Tone Match tool. Check out our guides on how to open Room Tone Match plug-in and how to make use of Room Tone Match.
It's been great bringing you these updates! Enjoy them, use them to improve your workflow, and keep on creating better content. We'll talk to you all soon, but until then, be sure to keep safe as Spring drawn near.
February 08, 2021
Related articles
Read about the latest version of the ERA Bundle: ERA 6! Info on ERA De-Breath and Audio CleanUp Assistant, plus SFX Cellar 2.0, Voice Changer and Music Cellar
Sync your cuts to a track's rhythm, fast. Check out this article for a ton of ways to use BeatMarker!
The latest in our regular updates for Voice Changer, this pack contains all you need to simulate Household-based voice effects. From dusty basements to noisy upstairs neighbors, a ton of new possibilities are ready for use.