September Brings a New ERA: Everything you need to know about ERA 6, SFX Cellar, and beyond!!
Read about the latest version of the ERA Bundle: ERA 6! Info on ERA De-Breath and Audio CleanUp Assistant, plus SFX Cellar 2.0, Voice Changer and Music Cellar
This time last year, ERA Bundle 5 launched. In the days, weeks and months since, creators used ERA 5, empowering their content with the fastest audio clean-up and repair bundle on the market. 
Jump forward to today. 
For each minute since launch, the ERA experience has been expanded and improved based on your feedback. The result? ERA 5 is now the second-fastest solution for audio editors. That's because:
The ERA Bundle 6 is here! Our most agile and complete repair suite ever released
We've also spent the year making sound design accessible with Voice Changer, sound effects accessible with SFX Cellar, and royalty-free tracks accessible with Music Cellar. September 2021 is our biggest release to date, so let's go through everything in detail! 
Quick Tip - Everything we're about to mention is included in the all-new All Access Suite plan.
The ERA Bundle 6 is here.
Available from today, it's the latest version of ERA - a collection of audio repair and optimization plugins designed to speed up the editing process: 
Here are some highlights of the new features, and how they can help you improve your content process: 
A Revamped Audio CleanUp Assistant 
The Audio CleanUp Assistant has been a mainstay of ERA for some time now, but in ERA 6, it allows you to create more quickly and cleanly than ever before: 
Fully rebuilt and enhanced, the Assistant now listens to your unedited voice tracks. By analyzing their audio content and characteristics, the Assistant automatically suggests an audio repair plugin chain. These suggestions are the perfect starting point for those wanting to make their audio better, faster; a few quick adjustments, and you have a fully optimized track!
De-Breath: the latest ERA Bundle Audio cleanup plugin 
If you've ever had to manually take breaths out of audio, you know how long it can take. By instead automatically detecting breath sounds in audio tracks, De-Breath makes editing them out a breeze: 
Using a single-dial interface, users can control breaths precisely. This reduces a once-laborious editing process into a matter of seconds. From fixing voice-over inconsistencies to making a track sound more natural, De-Breath is ready to help you save even more time while editing! 
M1 Compatibility and Stability Improvements 
All ERA tools are now fully compatible with Apple M1 Macs. In conjunction, all ERA Bundle plugins have improved stability. Speaking of which, the aforementioned Audio CleanUp Assistant plugin is now available on Final Cut Pro! No matter your editing environment, ERA's got your back. 
SFX Cellar's Biggest Overhaul to Date 
Providing a simple way to find quality, royalty-free sound effects, SFX Cellar has grown rapidly over the last year. Today, several huge improvements to the service go live: 
You can now find the sounds you need, faster than ever before. With an AI-powered search engine, the thousands of tracks available on SFX Cellar are now super findable. Searching via keywords is a more accurate and intelligent process, with results in milliseconds.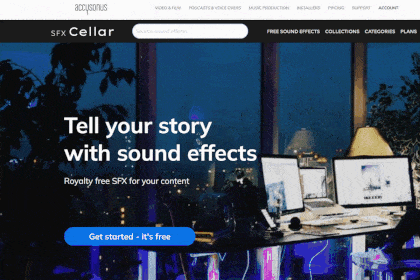 Even with the new Search Engine, navigating a large database of sounds can be daunting. That's why we've introduced the exclusive 'Find Similar' feature. This algorithm clusters the sound effects based on their sound characteristics. You can use it to find similar sounds to the one you like, all with a single click. The result? Efficient, maximized browsing!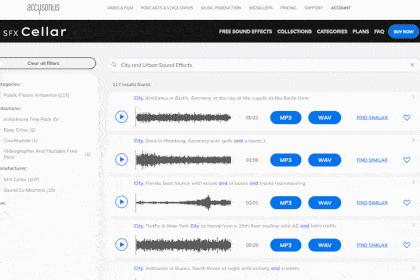 You can now favorite tracks on SFX Cellar! Upon clicking the heart icon next to a sound, it gets added to a list on your accusonus account. Shortlist potential sounds to make easier decisions. Save tracks you like for future use. Build a personalized library of favorites, without having to download a bunch of SFX at once. It also makes SFX Cellar super comfortable to use on mobile devices.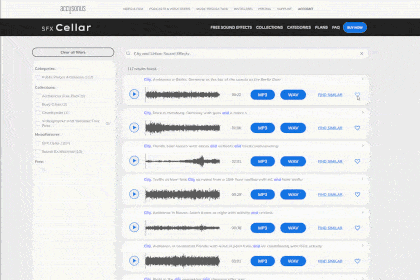 As sound experts ourselves, we know that nothing beats human curation. Therefore, we've introduced Featured Sounds. The accusonus team has handpicked the best and most diverse sounds of the catalog. SFX Cellar's hidden gems are no longer hidden -  we've brought them right out in front for you! 
To celebrate the new SFX Cellar, we've just added over 5000 new sounds! All effects in our libraries have been enhanced with better tags, comprehensive categories, and additional metadata. In conjunction with the above features, that's even faster browsing. 
We are continuing to regularly update Voice Changer with new character, environment, and effect profiles. The latest is the Intercoms Pack - a selection of sound design tools themed around electronic voices, devices, and interactions. This enables even more scenarios for your content and includes a bunch of presets for rapid creative opportunities. Transform your recording setup into something dynamic like a space station or jet cockpit, or enrich everyday moments like talking via a doorbell intercom or smartwatch microphone.
Music Cellar: September Celebration
To commemorate our biggest release of the year, Music Cellar (Beta) has just released 5 new albums. All royalty-free, all free to download and use! 
Action Scene
Cocktail Time
Mystery Cities
Western Flavors 
Colors of the World
Go check out the Cellar to hear and download them, or flick back regularly for fresh weekly albums. 
Introducing the All Access Suite 
Accusonus products are best used in conjunction with each other. The time you save cleaning up audio with the ERA 6 Bundle can be lost in time spent looking for background music, or SFX. Fast sound design with Voice Changer is made only better by optimizing levels and equalization. 
These examples, and lots more like them, come from your user feedback. If an editor needs an agile audio repair suite, chances are they also need royalty-free assets or sound design solutions. 
Introducing the accusonus All Access Suite: the most comprehensive product suite for your content creation needs!
Repair and optimize your audio tracks with the ERA Bundle 6 Pro
Create engaging content and improve your production value in a few clicks with Voice Changer - a virtual sound designer plugin.
Download unlimited high-quality sound effects enriched with metadata, always royalty-free, via SFX Cellar Premium
Find the perfect royalty-free background music in our music libraries with Music Cellar (Beta) 
Given there's a load of new stuff to try out, we recommend you go begin a free trial for the All Access Suite. It'll give you plenty of time to try out the Suite on your content - from easily adding royalty-free audio and fixing issues, to designing new voices and optimizing listenability. 
P.S. If you're already part of the accusonus family, check your email inbox for some exclusive offers and updates! 
September 21, 2021
Related articles
Sync your cuts to a track's rhythm, fast. Check out this article for a ton of ways to use BeatMarker!
The latest in our regular updates for Voice Changer, this pack contains all you need to simulate Household-based voice effects. From dusty basements to noisy upstairs neighbors, a ton of new possibilities are ready for use.
Our latest ERA update has arrived