Working with Sound Effects in Avid Media Composer
Make a huge impact with these Media Composer audio tips. Learn the tools and skills needed to change audio speed, pitch, add effects, and line up impacts at the right times, and bring out the best in your SFX.
Sound effects are crucial when it comes to making videos with impact. In this article we'll take you through adding sound effects to your timeline and then using audio effects to manipulate them to your liking. 
Placing sound effects in your timeline is pretty simple. You simply import them as you would import any other type of media in Media Composer.
Getting in and adding "Bells and Whistles" is where things need a little extra thought. I want to point out that Media Composer is not the greatest for working with Audio Effects, and in many (and I mean most) cases, I'll put all my SFX where I want them to go and then let the audio engineer do all the effects I need. That being said, if you're a one person show, the AudioSuite Effects (ASE) is your best bet. 
The first thing that's important to keep in mind with this tool is that you need to select the tracks you want to affect before opening it. You can find ASE in TOOLS >> AUDIOSUITE. Once the window opens, you'll need to choose what you want to do to your audio.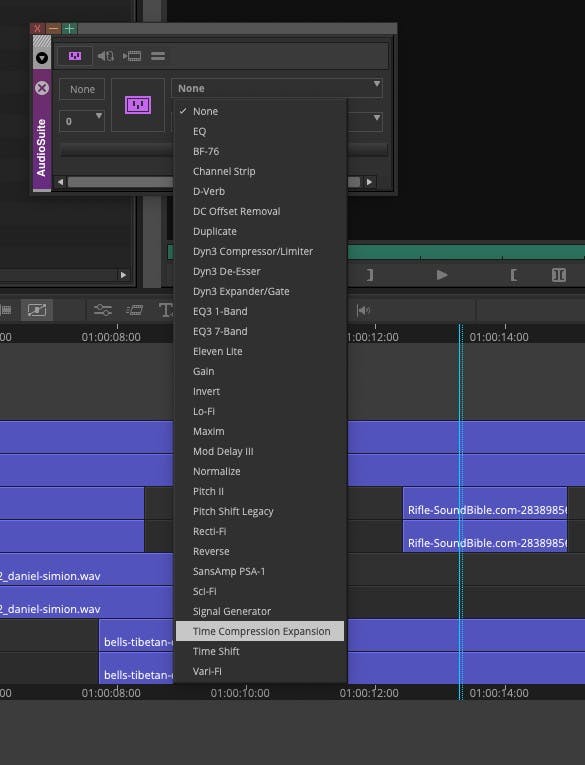 We'll just assume for this article you want to speed up an audio element. Let's choose Time Compression Expansion (TCE), meaning you want to speed up, or stretch out your audio. Once you've selected it, simply hit the Effect Icon to launch the effects' parameters. Keep in mind there will be different parameters for each of the different ASEs.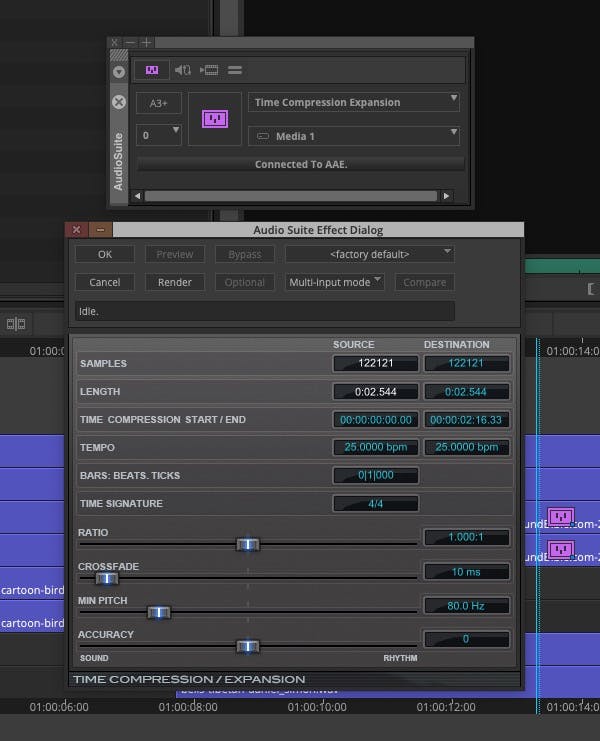 Now that the TCE window (Audio Suite Effect Dialog, as it's referred to in Media Composer) is open, there are a bunch of parameters you can tweak to your liking. The basic parameter you're going to adjust is the Ratio slider, depending on whether you want to speed up or slow down your audio. 
Whilst what we've talked about here pertains to TCE, but the concepts will work the same across all the ASE effects like EQ, Pitch and Gain.

March 25, 2020
Related articles
Got questions about editing audio in Avid Media Composer? This guide should answer them all - you'll be a master in no time.
Make sure your recordings made using Media Composer are as good as they can be with this handy guide
Discover how to export audio from Avid Media Composer for external processing; or if you've already edited your video, directly replace audio source files while retaining your edits.