The Best Video Editors for Slow Computers
You don't need to have the latest machine to edit video professionally. Try these software packages to get great results on older or cheaper computers.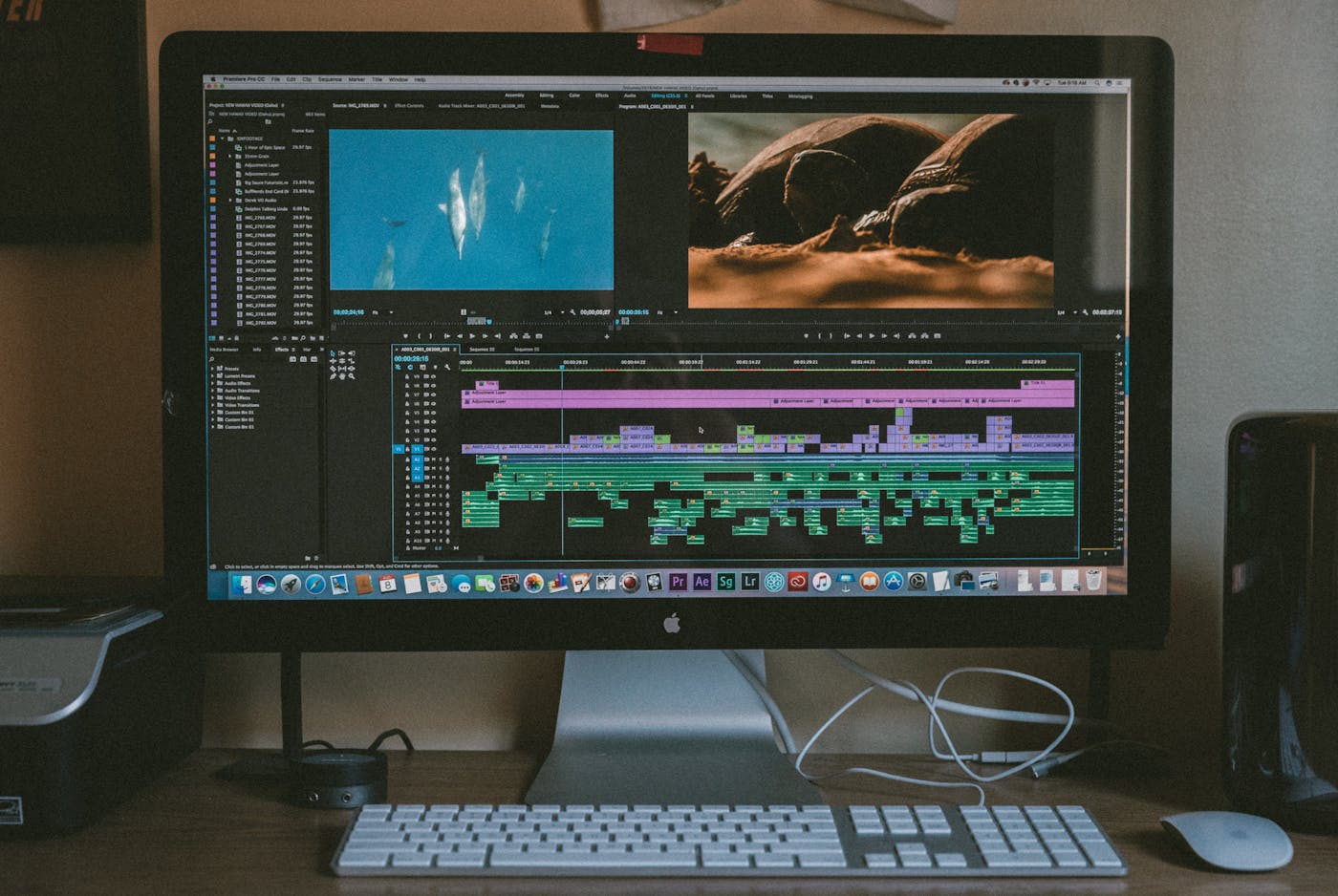 The number one excuse most people use for why they haven't started making videos is that their gear isn't good enough. For would-be video editors, it usually comes down to their computer not being powerful enough to run decent editing software.
Stop letting your equipment stand in the way of your creativity! Even with a low-spec computer, you can edit great videos. There are plenty of video editor programs that won't bring your computer to a standstill. Here are some that you might want to consider. The best part? They're all free!
→ You don't even need a computer to edit video, check out our guide to the best mobile editing apps.
Windows/Mac | Pay what you want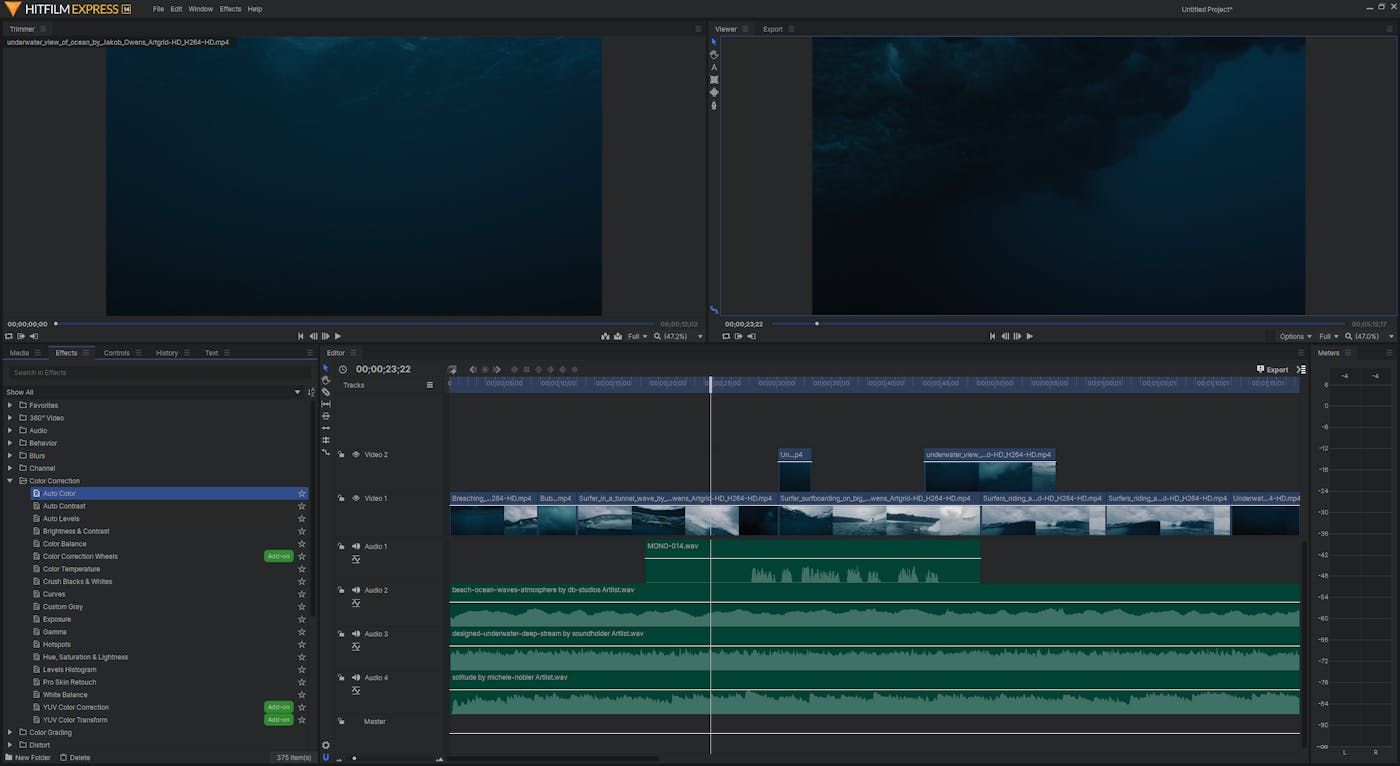 PROS: Fully featured, professional video editor.
CONS: Hitfilm Express has a steeper learning curve than most, if not all of the editors in this list.
SYSTEM REQUIREMENTS: 
Apple: macOS 10.15 Catalina, macOS 10.14 Mojave, or 10.13 High Sierra
Windows: Microsoft Windows 10 (64-bit), Microsoft Windows 8 (64-bit)
Internet connection: Required for online activation
Processor: 4th Generation Intel® Core™ Processors or AMD equivalent.
RAM: 4GB (8 GB Recommended)
Graphics card:
undefinedundefinedundefinedundefined
WHERE TO GET IT: Hitfilm Express website
Hitfilm Express includes all of the basic video editing tools you need to get started, plus a whole lot more. Not only can you trim and split footage and edit audio, you also get access to many more professional level features such as 3D video support, chromakey (for working with green screen), over 180 effects, and a store where you can purchase even more add-ons. There are even compositing tools that will allow you to build your own effects, but you might have trouble with this if you're working on a low-end computer.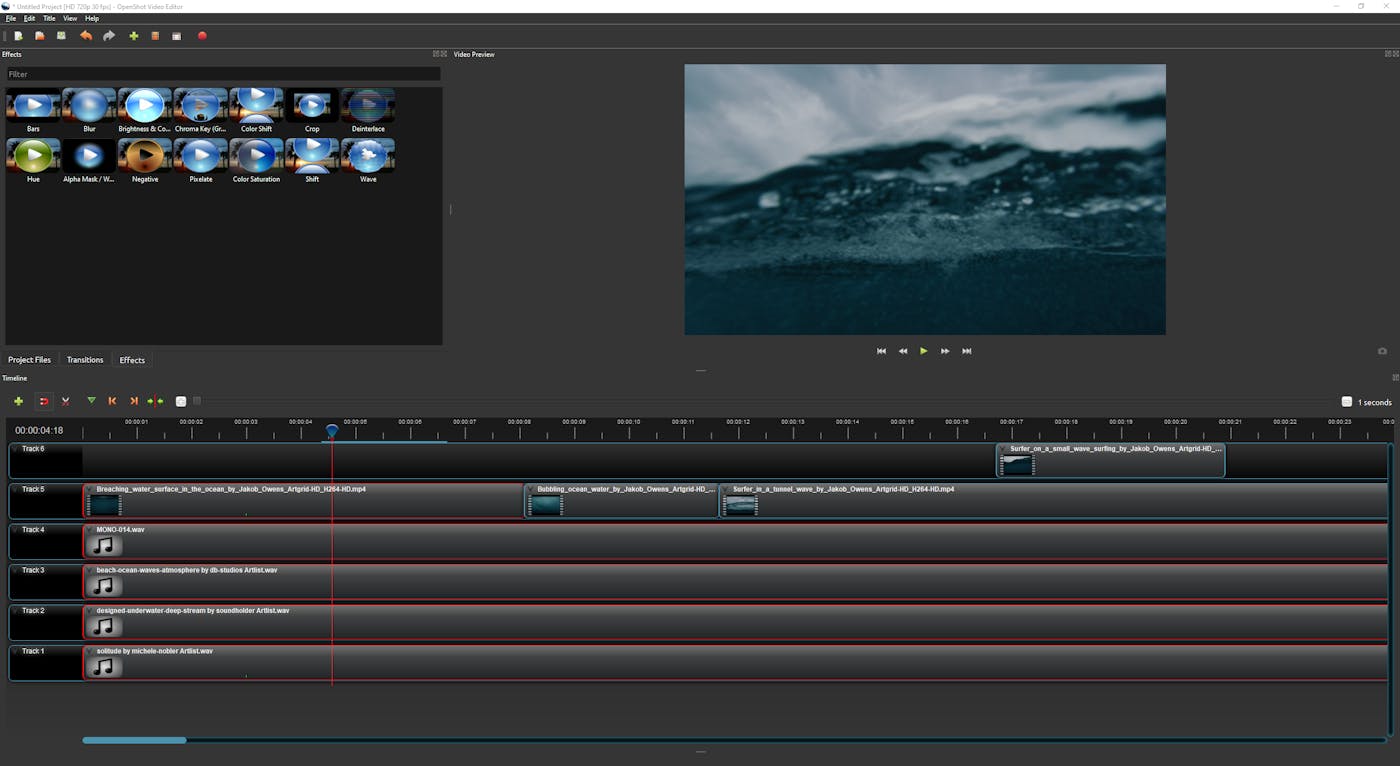 PROS: Free and open source. Allows for unlimited layers in the timeline.
CONS: More advanced graphics and animated titles require Blender to be installed as well. No AVCHD support, which is the file format of most camcorders.
SYSTEM REQUIREMENTS:
64-bit Operating System (Linux, OS X, Windows 7/8/10)
Multi-core processor with 64-bit support
4GB of RAM (16GB recommended)
500 MB of hard-disk space for installation
Optional: Solid-state drive (SSD), if utilizing disk-caching (and an additional 10GB of hard-disk space)
WHERE TO GET IT: OpenShot website.
Openshot is free and open-source, making it one of the most accessible video editors on this list. There are plenty of advanced features available, while still maintaining a relatively simple user interface. While Openshot isn't without it's bugs, the developers seem to be constantly working on updates.
One of the most notable drawbacks of OpenShot is it's lack of AVCHD support. AVCHD is the most common file format for camcorders, so if you use a camcorder to film your videos, you might be out of luck.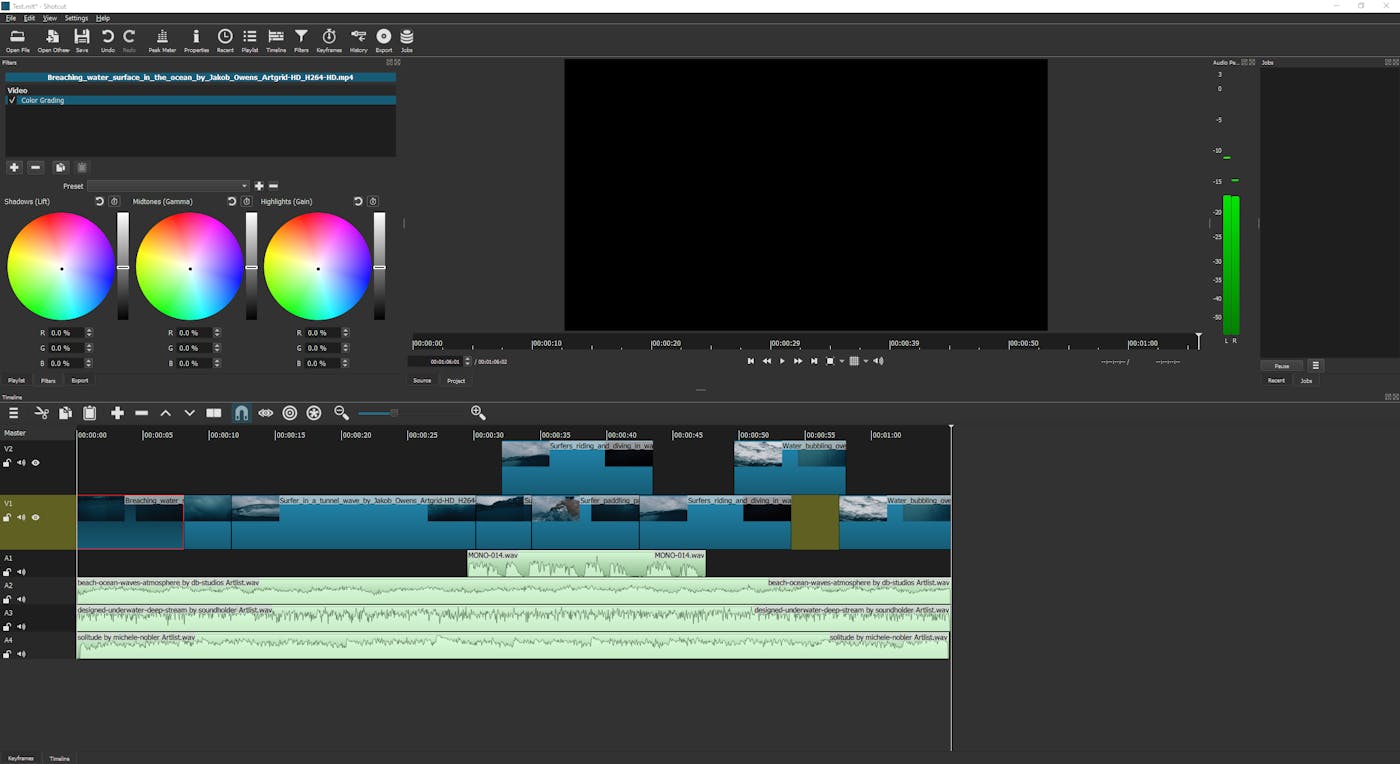 PROS: Professional editing features, 4k support, and no paid upgrades needed.
CONS: Originally designed for Linux, the interface is a bit clunky
SYSTEM REQUIREMENTS:
Operating system: 32- or 64-bit Windows 7 - 10, Apple macOS 10.10 - 10.15, or 64-bit Linux with at least glibc 2.19.
CPU: x86-64 Intel or AMD; at least one 2GHz core for SD, 2 cores for HD, and 4 cores for 4K.
GPU: OpenGL 2.0 that works correctly and is compatible. On Windows, you can also use a card with good, compatible DirectX 9 or 11 drivers. We do not have a list.
RAM: At least 4 GB for SD, 8 GB for HD, and 16 GB for 4K.
WHERE TO GET IT: The free version of Shotcut can be downloaded directly from their website. There is a paid version as well, available from the Microsoft Store which will give you an ad-free experience.
Next to Hitfilm Express, Shotcut is probably the closest thing to a professional-level video editor that you will find on this list. It has all of the features you would need to make a high-quality video, including native timeline editing and even 4K support. 
The downside? Shotcut can be a bit buggy, especially when it comes to color grading and effects. Video tends to lag and glitch when applying visual effects and adjusting color, but it's certainly not bad enough to discount Shotcut as a potential choice for your first video editor.
Windows Only | Free (Pro version $19.99)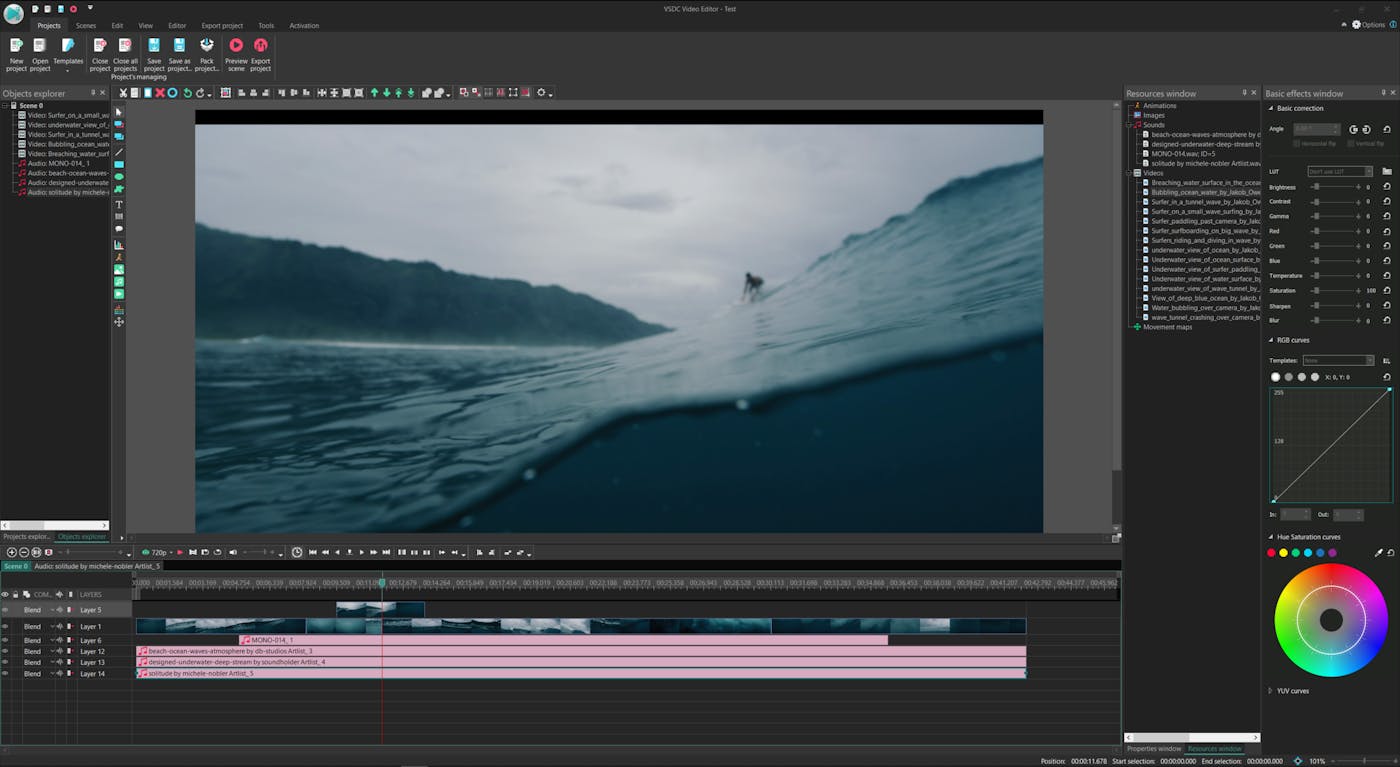 PROS: Easy to use, straightforward interface, powerful features.
CONS: Windows only. Have to pay for product support.
SYSTEM REQUIREMENTS:
Microsoft Windows 2000/XP/2003/Vista/Win7/Win8 (all of the last updates installed are recommended)
Intel or AMD or compatible processors at 800 MHz minimum
Display graphics minimum resolution of 800x600x16-bit color
RAM 128 megabytes (MB)
Microsoft DirectX 8.1b
Minimum 20 MB of free hard disk space is needed for installation
WHERE TO GET IT: VSDC website.
VSDC is one of the most popular free video editors for windows users, and with good reason. For starters it is able to run on much slower computers than other video editing programs. On top of that, there are plenty of powerful features, including color grading, audio effects and visual effects that will help you make a professional-looking video.
The free version doesn't come with tech support, or all of the features VSDC has to offer, however. If you want all of the features, you're going to have to pay for the pro version, which costs $19.99. If you want to add tech support without upgrading, that will run you $9.99 per month, or $14.99 per year.
Trying to build your YouTube presence? Our guide on getting started with YouTube might help.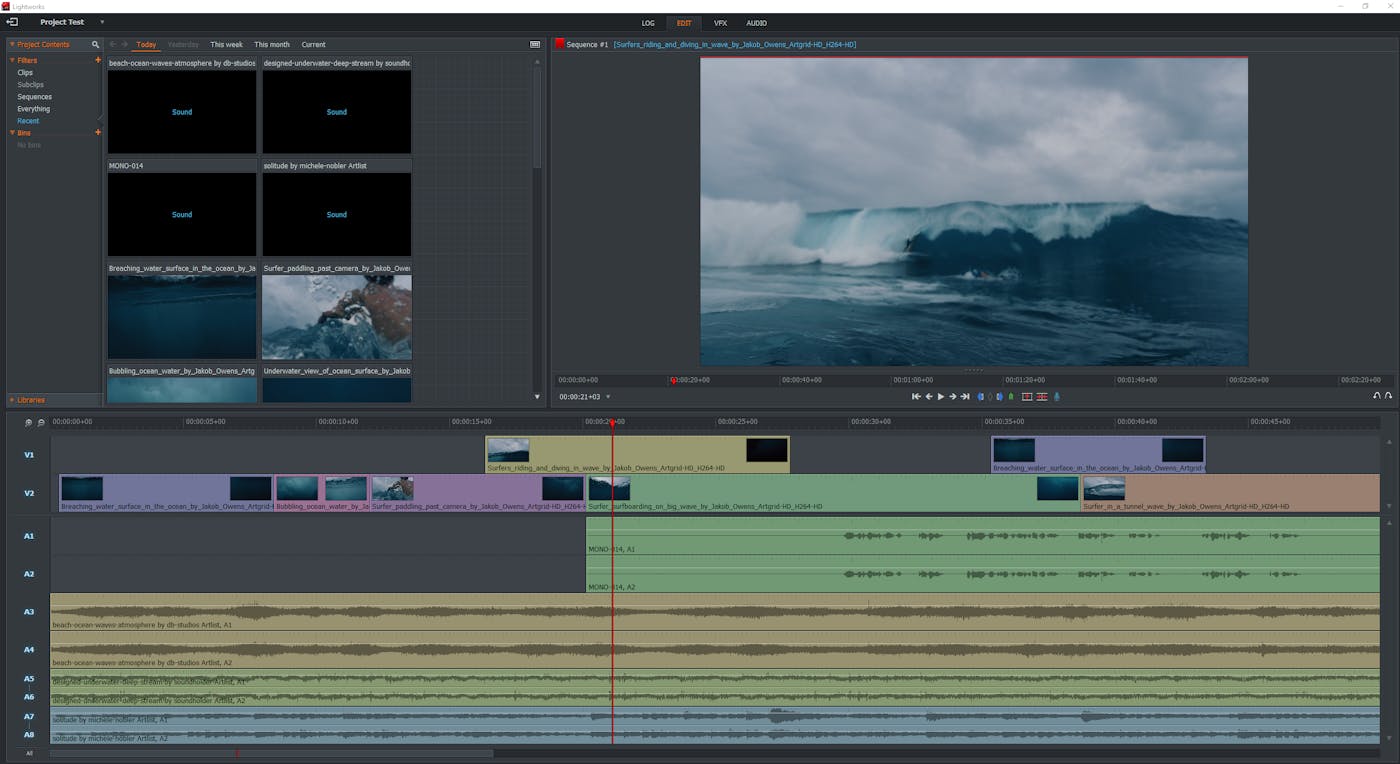 PROS: Powerful features, capable of professional-level edits.
CONS: Free version doesn't come with all available features. 720p max support for YouTube and Vimeo in free version.
SYSTEM REQUIREMENTS: The minimum system requirements for Lightworks is unknown. However, Lightworks does list recommended system specs on their website:
Intel i7 chipset or faster, fast AMD chipset
3GB RAM or higher
Two high-resolution displays (1920 x1080) or above
PCI Express graphics card (NVIDIA or AMD) with 1GB or higher and support for DirectX 9 (Windows only)
Separate media and system drives (these can be internal or external as long as the the interface is suitably fast
Compatible sound card
200MB Disk space for Lightworks installation
WHERE TO GET IT: Lightworks Website
Most of the available features in the Lightworks Pro version are available in the free version, but not all. The most notable exception is the lack of 4k, and even 1080p support for YouTube and Vimeo. Still, Lightworks is a powerful video editor that will allow you to edit professional-looking videos. It even supports dual-monitor workflows.

July 24, 2020