The 5 Best EQ Plugins for Video Editors
Choose the best EQ for you. Looking for an equalizer to sculpt your audio for video? We've got you covered with this comprehensive list of the best software EQs
Here we've rounded up five of the best EQ plugins on the market right now to help you sculpt your video's sound. But what's an EQ? And what's a plugin?
At its most basic level an EQ plugin (or equalizer plugin), controls the volume of different frequencies independently from one another. Think of the sound settings in your car where you can control the levels of your bass, treble and mids, that's just a very basic EQ. Equalizers allow you to say, reduce just the bass of a sound effect, or increase the higher frequencies of your voiceover whilst leaving the mid range intact.
Different parts of the frequency possess both desirable and undesirable characteristics which should be cut or boosted accordingly. For example, frequencies below 120Hz are often muddy and should be cut whereas boosting frequencies above 3kHz can add clarity to a voice.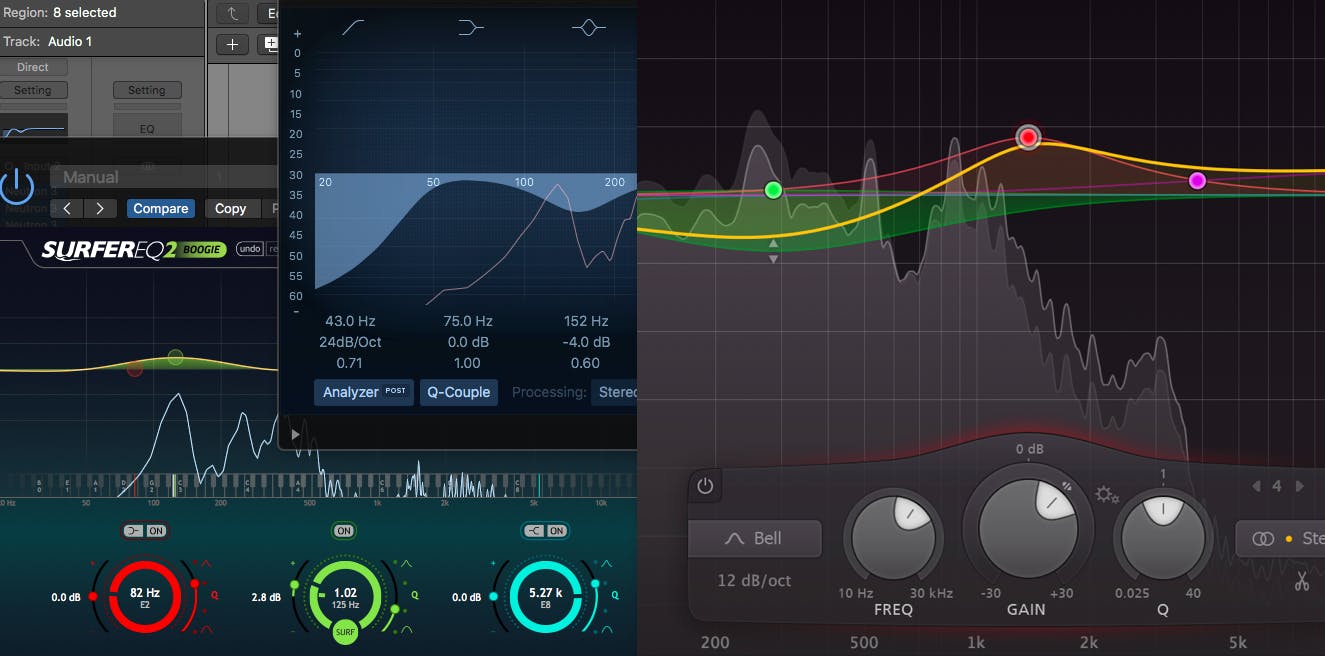 A VST plugin is a bit of third party audio software which adds functionality to its host audio software, such as our own ERA Audio Clean-up Plugins. In this case it's a piece of software that you can load in your NLE (or DAW if you're processing audio externally) in order to control the frequency spectrum of your audio.
When choosing an EQ plugin, it's important to think about where your priorities lie. Do you want as many pro features as possible so you can fine tune everything to your liking, or do you want something that'll do it all for you?  Also, if price is a big factor then don't worry, we've got you covered – this round up covers all price points.
→ Make your voice cut through the mix ! Improve voice clarity and tonal balance in a transparent way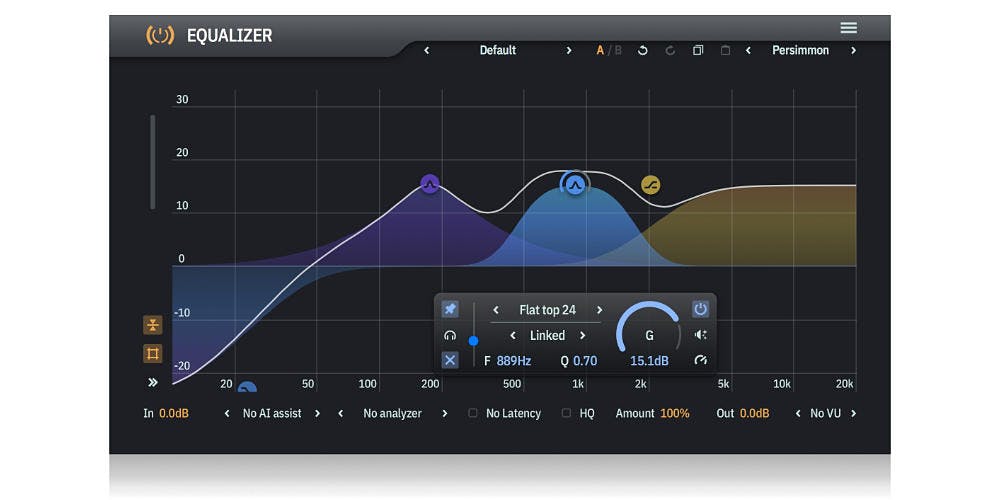 We're kicking things off with the most affordable option on our list. At €39, ToneBoosters Equalizer 4 is a steal, however if you're on a super-tight budget, we also have a round-up of The Best Free EQs elsewhere. ToneBoosters EQ4 is one of the best analog-style EQ plugins around, but it also has some great digital equalization features too.
If the low price point has you dubious about the capabilities of this EQ plugin, then fear not, in this instance inexpensive does not mean ineffective. This affordable powerhouse boasts many of the features found on EQs five times its price. This could well be the best EQ software for acoustic guitar players who need to make quick, slight lifts to their recorded audio.
Dynamic EQ mode allows you to have bands which adjust the amount they cut or boost by depending on the levels of the frequencies they're affecting. In a pinch, this means ToneBoosters EQ4 can act as a makeshift De-esser.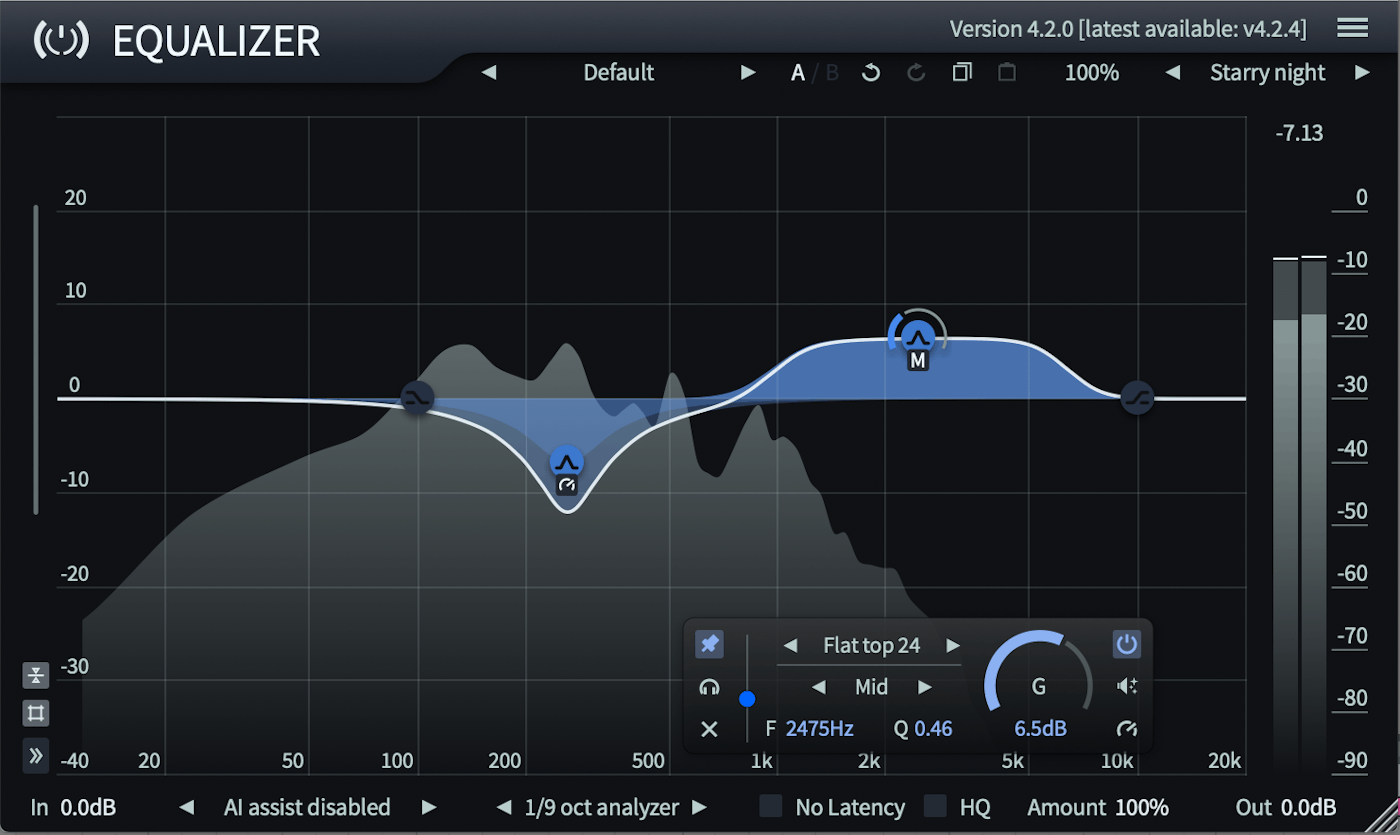 Equalizer 4 also supports mixing in Dolby Atmos, Ambisonics, Facebook 360 and Youtube 360 making it pretty future proof if you ever plan to expand into these formats, and you'd imagine a fresh version at 'Equalizer 5' will arrive after some time to provide even more functionality.
For sound editing on the go, ToneBoosters have also made an iOS app which gives you the same great functionality on your iPhone, iPod or iPad. And at $7.99 it's a steal!
The final feather in Equalizer 4's cap – and one which may appeal to those new to the world of sound mixing – is AI equalization suggestions. Equalizer 4 will listen to your audio and give you useful equalization suggestions meaning you can get recommendations for a pro sound in seconds!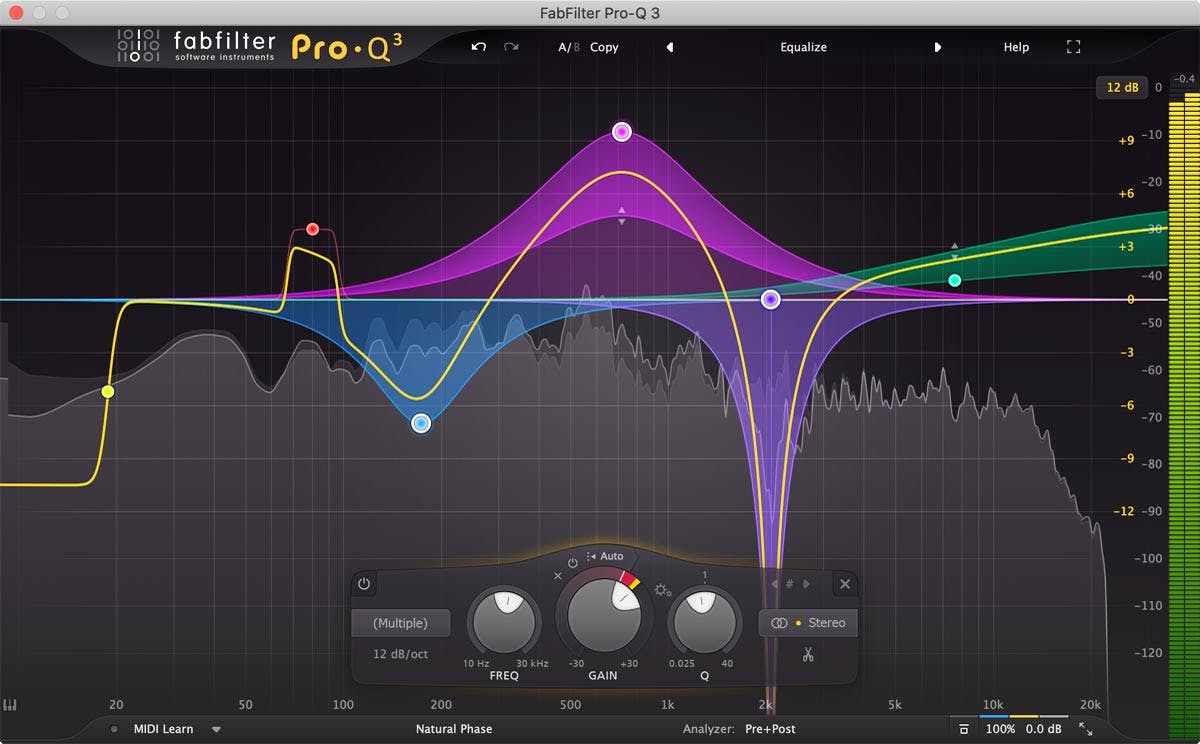 The third FabFilter EQ after the first and second versions of this plugin, Fabfilter Pro-Q3 is widely regarded as the best EQ plugin on the market. It's a powerful equalizer with a lot of functions that those who want to perfectly sculpt their sound will really appreciate. With video hosts including Final Cut Pro and Adobe Premiere supporting VST plugins, video editors can also get access to the power of this FabFilter EQ software.
Infact, this equalizer is Emmy award-winning. It picked up an Engineering Emmy which is awarded for 'engineering developments that considerably improve existing methods or innovations that materially affect the transmission, recording or reception of television.' If that hasn't sold you on adding Pro-Q3 to your workflow then maybe its killer feature list will.
External spectrum visualization allows you to see where frequencies may mask each other on different channels. Useful, for instance, if you're struggling to hear your voiceover over the sound of your background music or sound effects.
Pro-Q 3 also boasts dynamic EQ which acts like a compressor on specific frequencies, reducing their volume if they ever get too loud without affecting the sound when it's more balanced
This is definitely one for the pros or those who want to take their sound to the next level.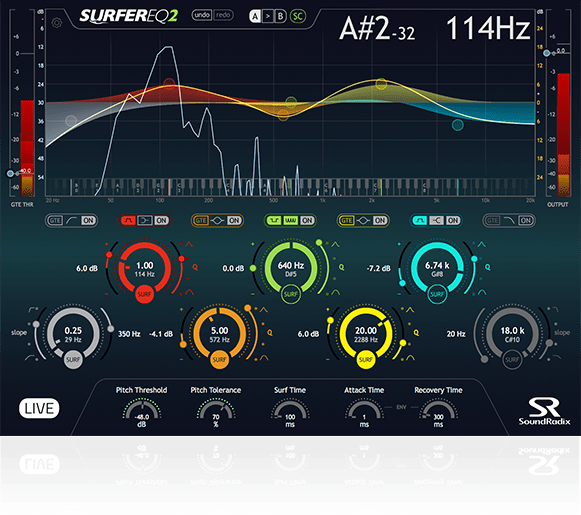 SurferEQ2 is a truly unique equalizer. It has all the functionality of your common or garden high end EQ - multiple band types, excellent sounding filter algorithms and highly flexible band shaping capabilities – as well as an exciting one of a kind capability.
The key stand out feature, and the one for which it is named, is the ability for this equalizer plugin to 'surf'. This means that EQ bands can detect the pitch of the root of your voice and, as you speak, adjust the shape of the EQ as the pitch of your voice changes. This allows you to keep consistent timbre across the entirety of your voiceover, no matter how much your voice may vary.
For many video makers this may be an unnecessary extra complication to the sound editing process. However, for those who really want to nail their sound and create some truly unique SFX, and who are willing to pay the $199 price point, this is a one of a kind EQ for doing just that.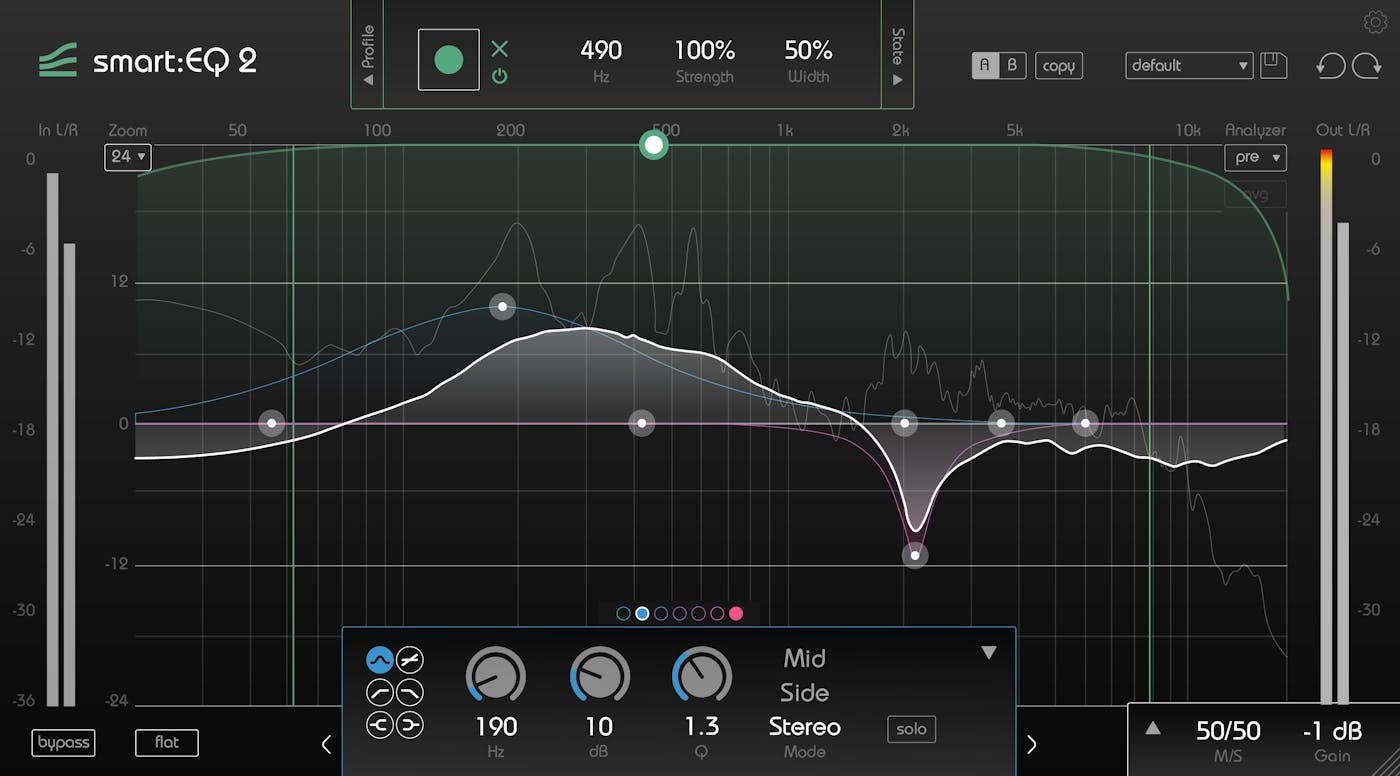 Sonible's smart:EQ 2 takes AI EQing to the next level. The equalizer will listen to the track it's placed on and in a few moments create an incredibly high resolution, fantastic sounding EQ curve. This features means that smart:EQ 2 could be the best mastering EQ plugin for amateurs and professionals alike.
The strength of the curve it provides can be fine tuned and you can alter it to only affect certain frequencies. This means you can very quickly achieve an excellent sounding EQ curve and personalise it in a matter of seconds. 
The curves that Smart:EQ2 creates are also incredibly high resolution. To create the EQ shapes its AI makes would require a lot of nodes and some very precisely dialed in settings.
Though Toneboosters Equalizer 4 offers AI functionality for a fraction of the price, Sonible smart:EQ 2 just does it better. If the prospect of AI doing the legwork for you is enticing, and you've got the budget for it, we'd recommend smart:EQ2.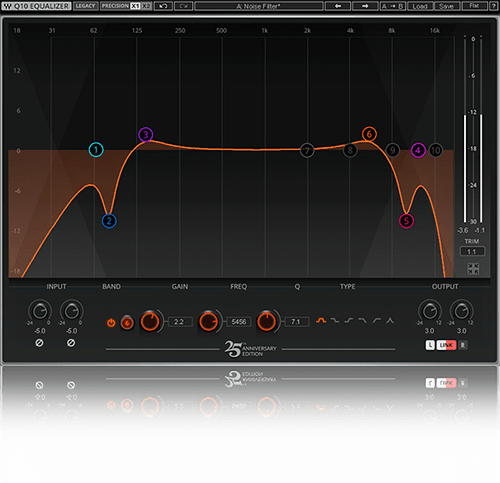 Waves Q10 is the original EQ. Launched in 1992, the Q10 'Paragraphic EQ' plugin was the first commercially available plugin in the world. Of course the audio industry has come a long way since then, as has the Q10.
The latest version was released in 2017 to celebrate its 25th anniversary. It's a powerful digital plugin which is fantastic for precise sound sculpting. Waves Q10 isn't packed with loads of exciting features like some of the other options on this list but it's a great option for just getting the job done. It offers up to 10 bands of control and each band can be any filter type, meaning that it could be the best analog EQ plugin as well as being really useful for precise sound sculpting.
February 21, 2020