The Ultimate Guide to Recording in OBS
This guide has everything you need to know on OBS recording. From how to record webcams to the best recording settings for OBS, it's covered 
OBS (Open Broadcaster Software) is a free piece of software that is designed for streaming and recording audio and video sources on Mac or Windows. It is a lightweight yet flexible tool that is essential for vloggers, live-streamers, filmmakers and podcasters alike.
The great thing about OBS (other than being free) is that it can record from almost any audio or video source, internal or external. You can use OBS to record on screen video, and capture the computer's internal audio, or record video and sound from external webcams and microphones. 
In the market for a microphone? Our microphone guide might come in handy…
There are several advantages of using OBS to record. OBS lets you separately record multiple channels of audio simultaneously, meaning you can capture multiple commentators, video conferences/zoom calls, and in-game/on screen sound from one program.
You can also have multiple video sources on screen at once, different webcams and camera angles, screen captures and static graphics and layer these to create professional looking videos. You can configure the arrangement of the video sources as you wish, and instantly switch between different layout presets.
OBS is also well integrated with streaming platforms like Twitch and YouTube so you can easily broadcast live to your audience.
How to use OBS for recording
Step 1: Install OBS
The first step is, of course, to download and install OBS from their website.
Step 2: Create a new scene and add sources
First create a new scene, call it "My Scene 1".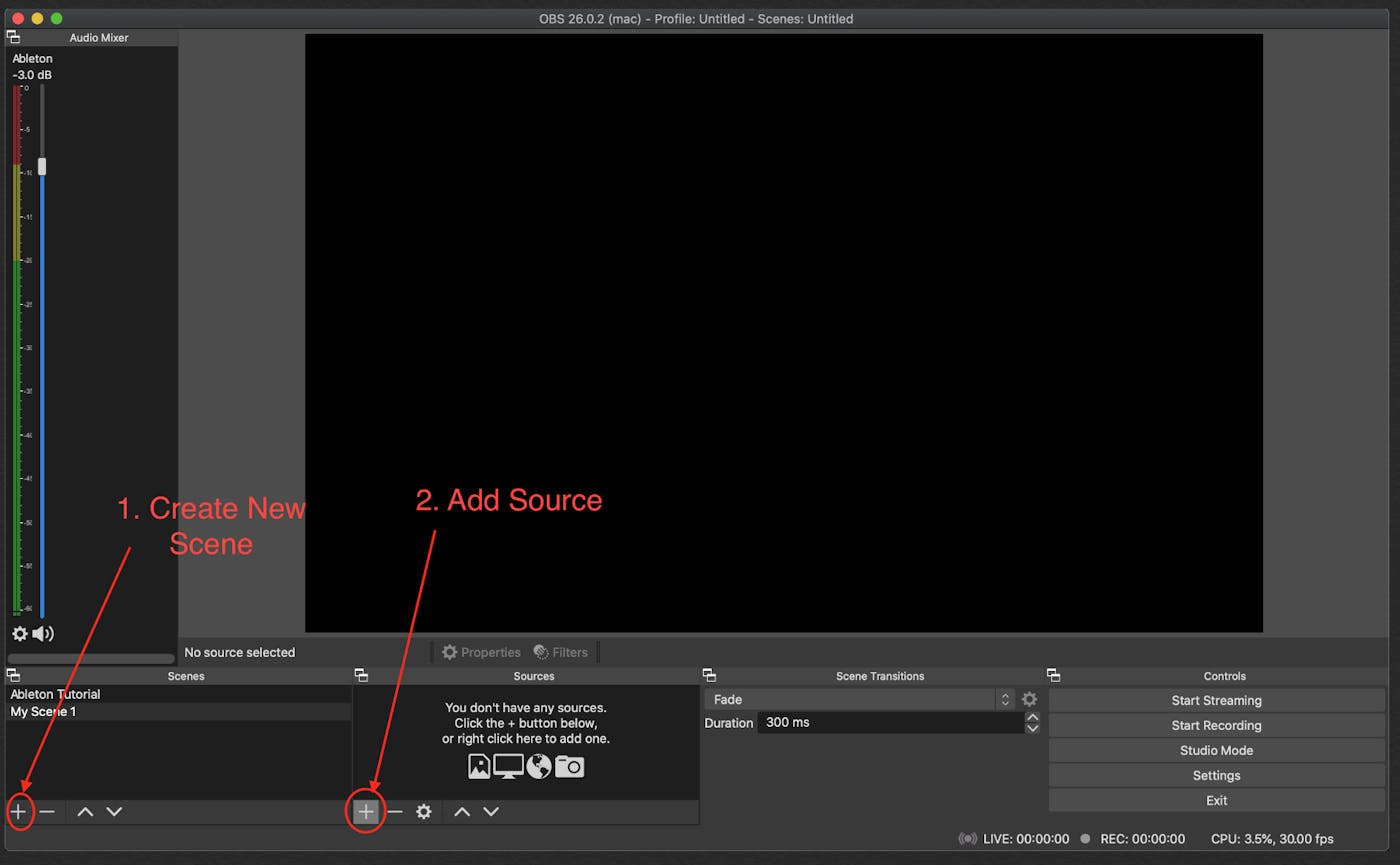 Each scene can hold its own unique combination of sources. You can create different scenes that you can switch between for instant layout or configuration changes. You could have one for a Webcam face close up, one with in-game screen recording with a small picture-in-picture view of your webcam. Changing one scene won't change another.
Next you want to add your media sources, this will depend on what you are trying to capture (webcam/mic/internal etc). For this guide let's record our screen.
Click to add a source, here you can choose which media sources to record. Explore the Add Source menu to see what other media can be captured by OBS.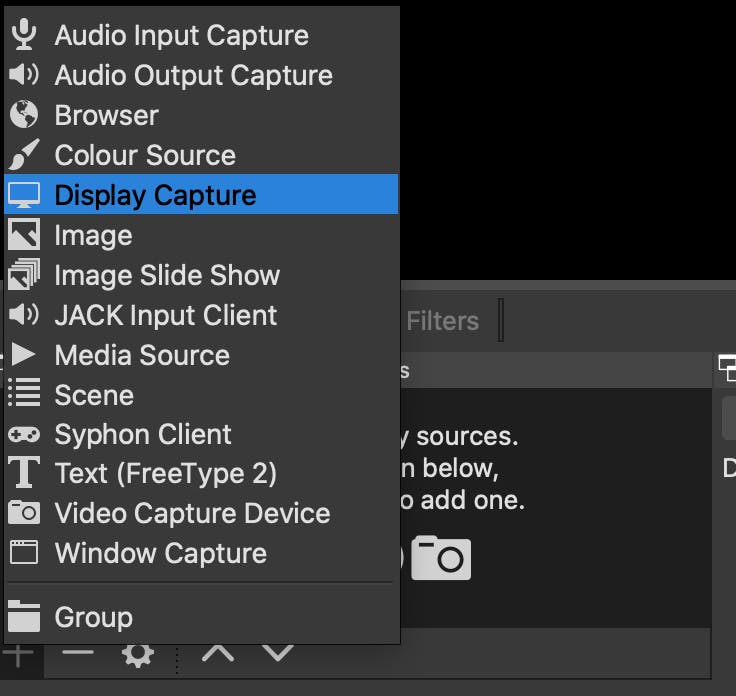 You might want to look in the Settings menu to make more advanced changes. In the settings you can edit the recording format for both video and audio, with many advanced controllers over file types, file compression, video resolution, and streaming options. 
Step 3: Record
Now you are ready to record. All you have to do is click the "Start Recording" button at the bottom right, then click stop when you're finished. 
Before starting your main recording, it's always worth doing a short test recording to check over first. There's nothing worse than thinking you've recorded a great show, only to watch it back and realise it didn't capture all the microphones, or some other small but destructive mistake. Record a one minute video where you test all the microphones and video captures then play it back and make sure that everything is as required. 
Select "Display Capture" from the Add Source popup.
Select the display you want to capture (0 will be laptop screen, 1 + will be external monitors).
You should now see the screen capture appear in the video display window. You can resize and move any media source on screen.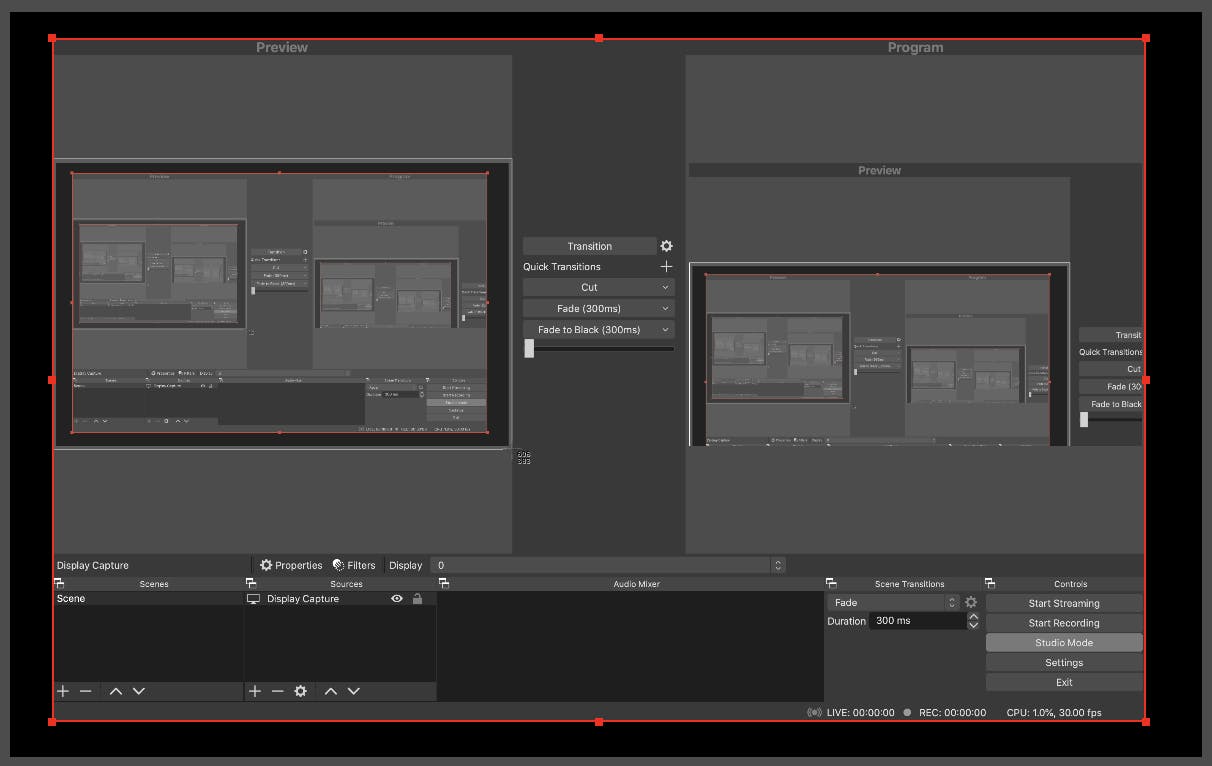 To record from webcams, add a new source and select "Video Capture Device". Press OK to create a new device, then select your webcam from the menu. You can also change image resolution here. You can resize the window for the webcam recording. 
If you want to record the internal audio of OBS, Add a New Source and select "Audio Output Capture". Select the default device, or whichever output device you are using. 
If you can see the audio meters moving, but can't hear a sound, you might need to use a monitoring system, or a Multi-Output Audio Device. For Mac, you'll need to download Blackhole, go to the apple Audio MIDI Setup app, then create a new Multi-Output device that contains blackhole and your main speaker output. 
Select this device in the Audio Output Capture source in OBS. 
Check you are receiving audio signals in the metering of the audio mixer. Make sure the audio meters aren't going into the red or your signal will be distorted and sound low quality. 
Now when you record, any sounds that would be coming out of your speakers will be recorded into your video, this is a great way of recording from video games, conference calls, browsers, applications and more.
To record external audio in OBS using a microphone, click to add a new source, then select "Audio Input Capture". Press OK to create a new input device, then select the microphone you wish to record from the drop down menu. 
A new channel will appear in the audio mixer, use these meters to mix the audio to the desired level. 
The microphone audio will be recorded to the video file.
All audio sources will be summed into a stereo audio track in the outputted video file. 
For more advanced audio mixing, right click the audio mixer and click "Advanced Audio Properties".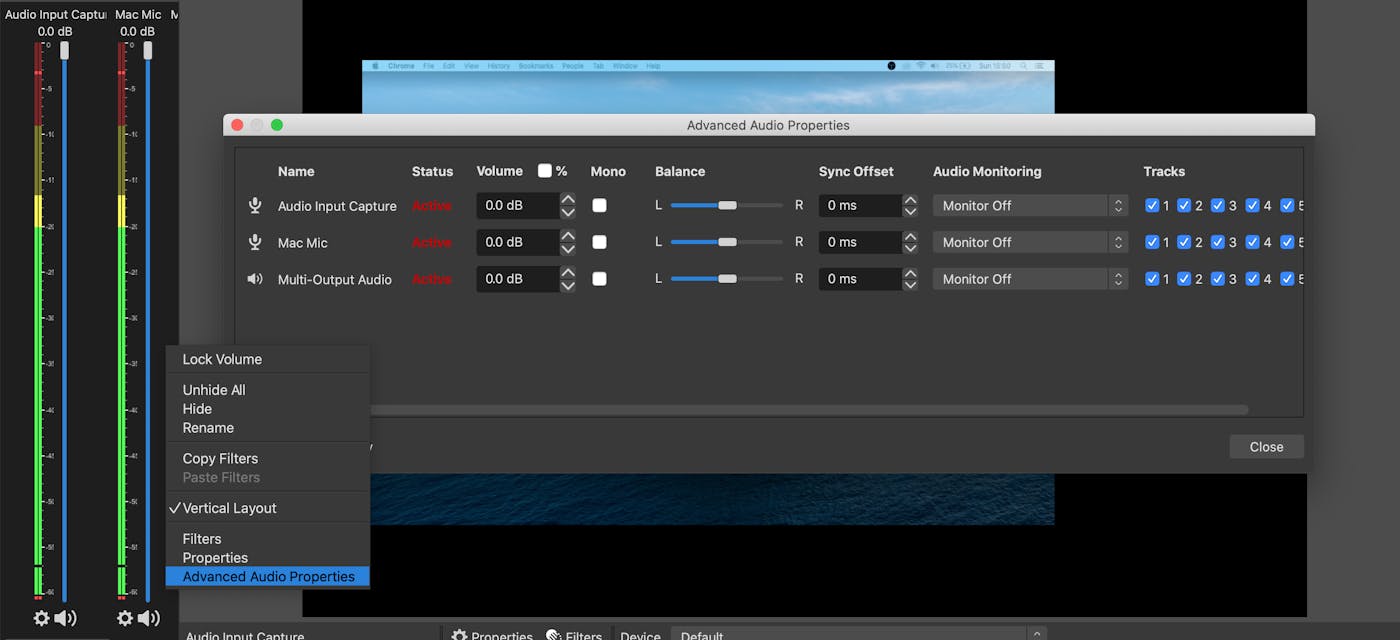 Sometimes you might want to pause a recording without fully stopping it. If you stop the recording, the software exports the video file. The advantage of using the pause feature is that you can suspend the recording to take breaks, rearrange windows or move sets around, without creating multiple files. 
Click the pause button at the bottom right next to the "Start Recording" Button. It will now say "REC: Paused" in the bottom right status bar.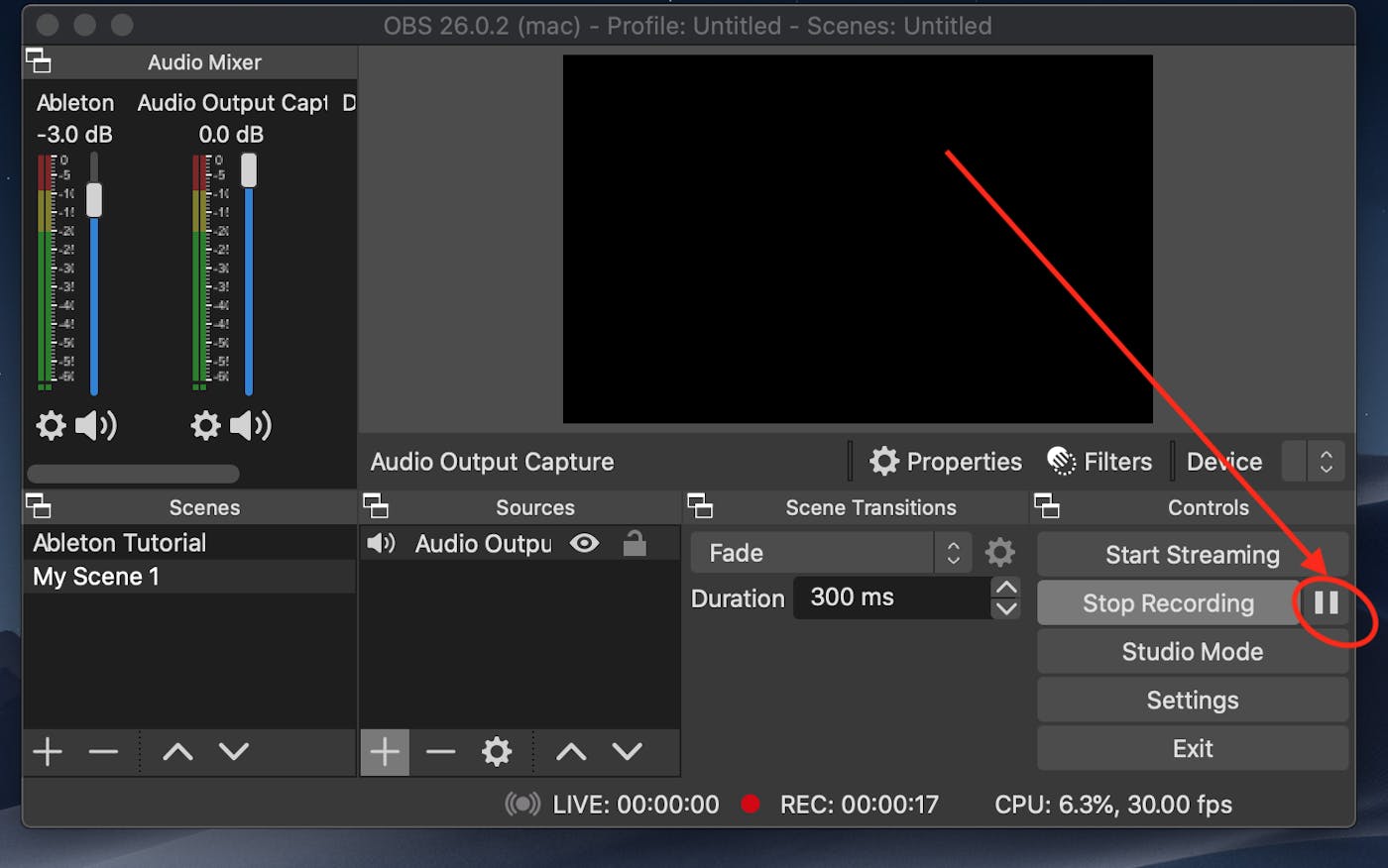 When you are ready to continue your recording, click the pause button again. OBS will resume recording, you will see the recording time counter start from where you left off. When you play back the video there will be a seamless instant transition when you paused.  
OBS Automatically outputs to your Video folder in your main documents section. The quickest way to find this location is clicking (File > Show Recordings). 
You can easily set a custom location for the recorded files to be saved to. Click Settings at the bottom right, then go to the "Output" tab, then "Recording" tab. From there type or paste the folder location in the "Recording Path" box, or click "Browse" to select the folder. 
Now when you stop recording, the files are stored in that folder. Again (File > Show Recordings) will open the location.
If you cannot play the recording, based on your chosen OBS recording format (MKV etc), you may need to Remux the format to a file type your computer can read (File > Remux Recording). Select the incompatible file and choose to remux to MP4 or MOV, as these are common types.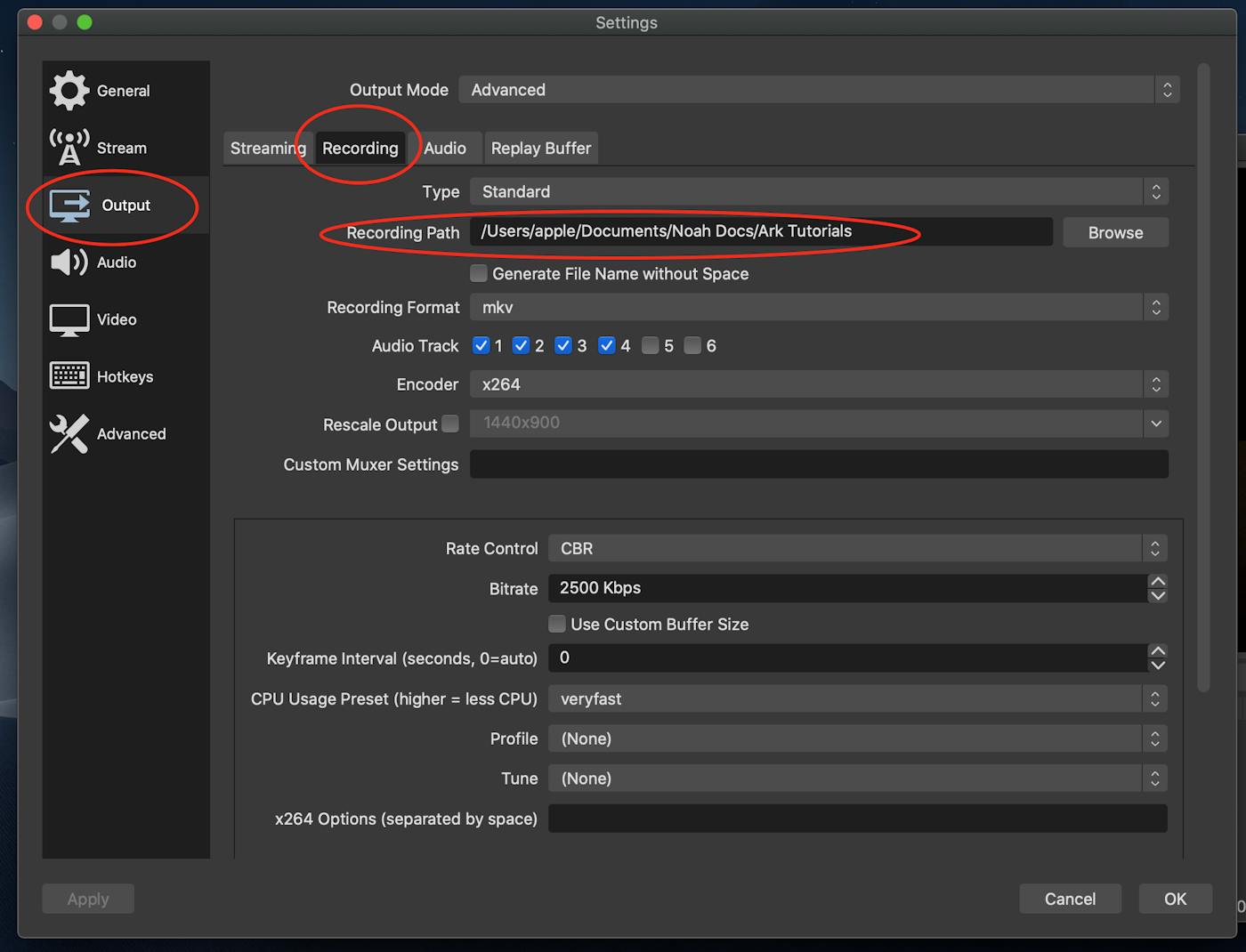 November 19, 2020