How to record Discord audio
Learn the best best way to record  Discord audio on PC and Mac with Audacity or with OBS Studio
Discord allows users to create a personal account, log on via the web or app, and create their own server around a given topic to talk with friends, or to hang out with a community of like minded people.
One of the big draws of using a Discord server is the ease at which you can share audio and video with other people. But you may find yourself wanting to record this audio for several reasons. For example, you may want to record audio from a live streamed tutorial, or perhaps you want to use Discord to record a podcast with friends. 
To record Audio from Discord, you are going to need some recording software. In this article we will discuss how to use two free tools - Audacity and OBS Studio - to easily record Discord audio. Let's start with Audacity.
→ Download the ERA Bundle, and with one knob you will make your best audio sound even better in OBS
Audacity is a free, open source, cross-platform audio software that is easy to use and is loaded with features. Audacity works on both a PC and Mac, however the process of recording Discord with Audacity is a little different on each system. We'll cover the best way to record Discord audio with both Audacity on both Mac and PC here. 
If you don't already have Audacity installed, head over to their website and download it for free: https://www.audacityteam.org 
To record Discord audio with Audacity on Mac, we must download an additional free piece of software called iShowU Audio Capture which will allow Audacity to record the computer's audio. 
Download iShowU Audio Capture here.
iShowU Audio Capture will allow you to route you computer's audio output directly to Audacity
When you have installed iShowU Audio Capture, open Audacity. This will be the first screen you see: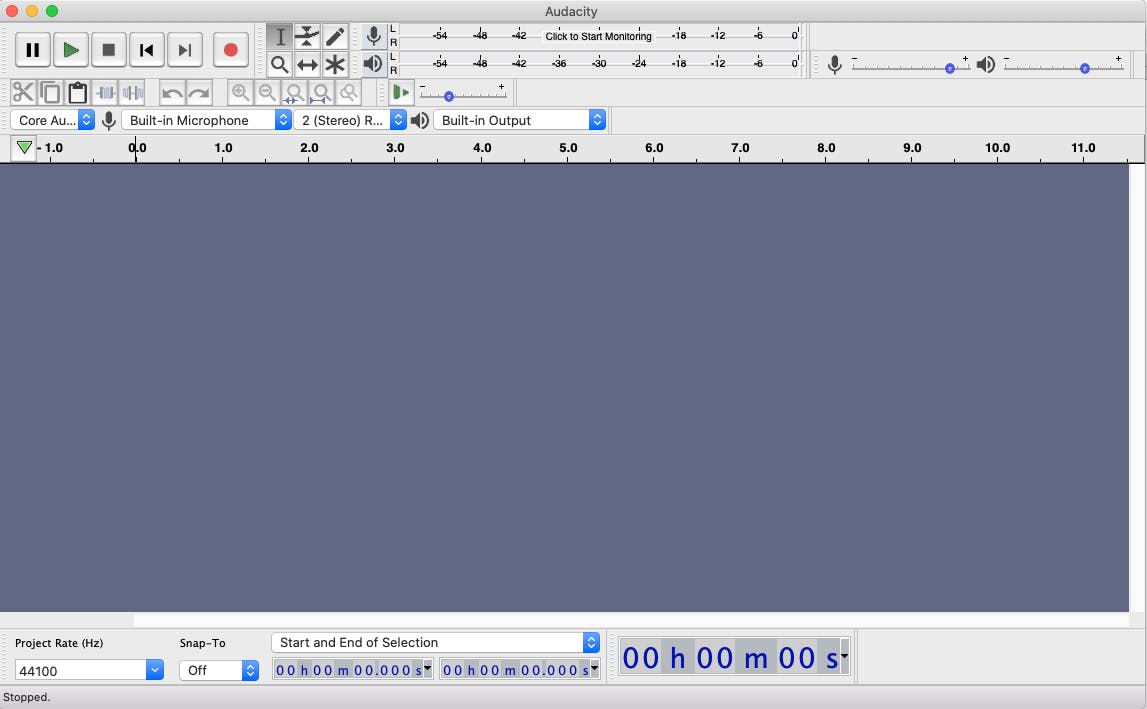 First, we need to set iShowU Audio Capture as your computer's main audio output. To do that, open System Preferences > Sound Preferences. Select Output at the top of the window, then select iShowU Audio Capture from the list below.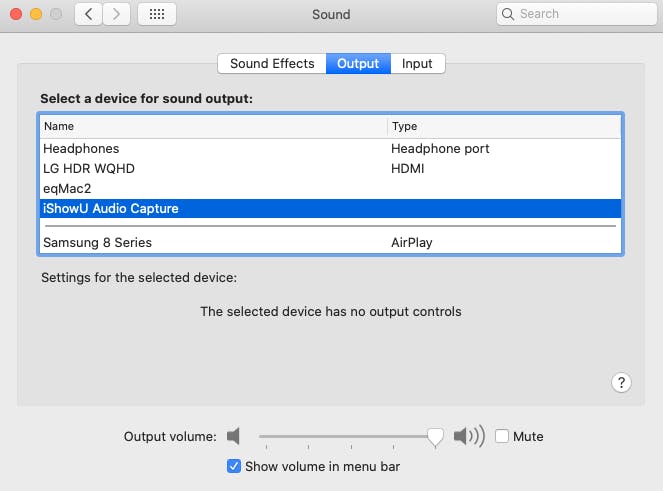 Next we need to adjust the audio settings in Audacity so that iShowU Audio Capture is the input source. 
Go to the Audacity Menu at the top left of the screen, then down to Preferences. Once in preferences, click Devices on the left. On the right look under Recording > Device and choose iShowU Audio Capture. You can leave Channels set to Stereo, or change it to mono if you'd like.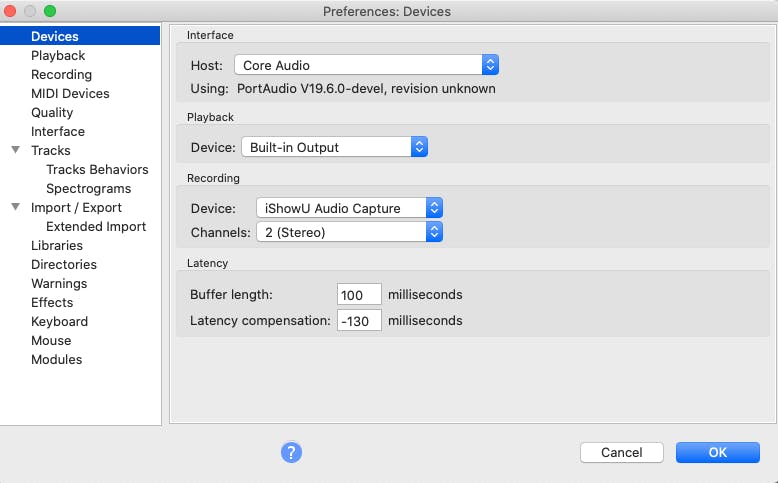 Before you close Preferences, select Recording on the left. Under Options on the right, check on 'Software playthrough of input'. This will allow you to hear the audio, and record it at the same time.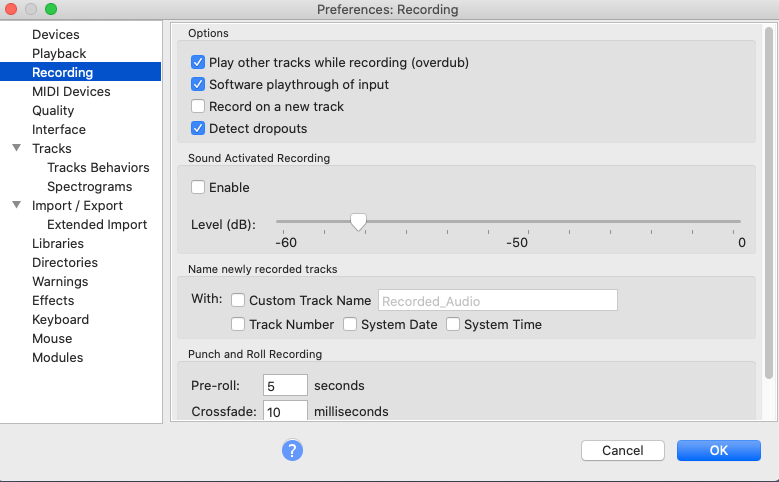 Now you should be all set to record! Head on over to Discord and, when you want to record, jump back to Audacity. You should see 'iShowU Audio Capture' selected next to the microphone, just above the timeline. Press the red record button and you will be recording all audio from Discord.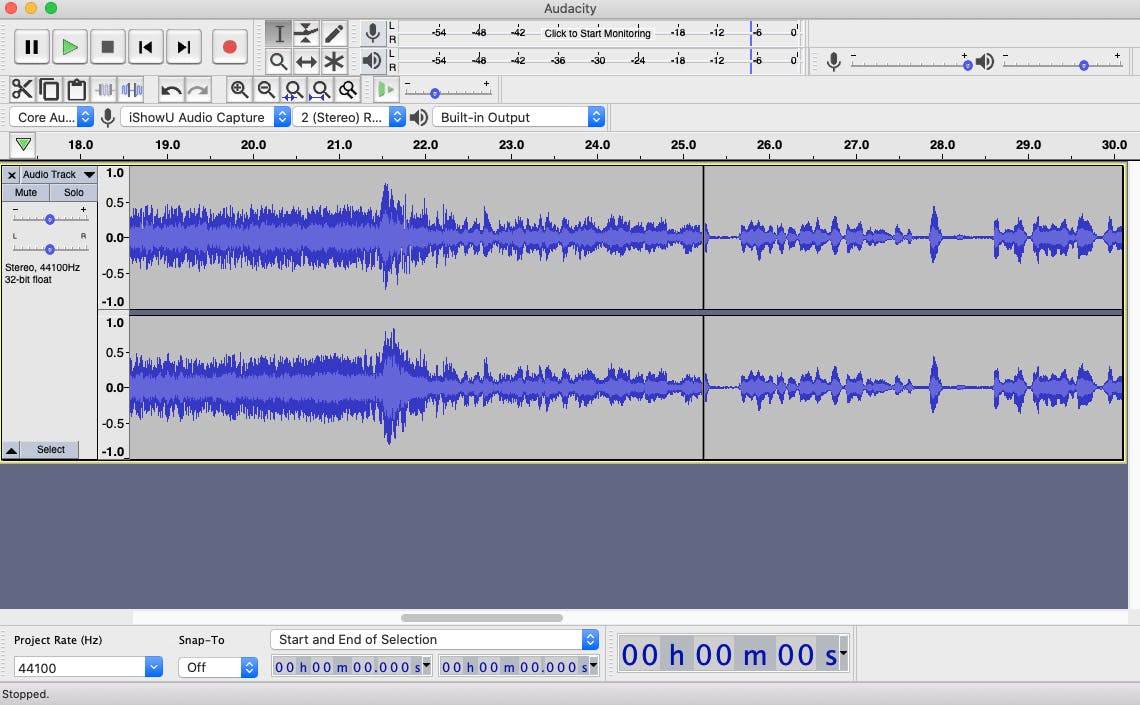 When you are finished recording, press the square stop button at the top of the Audacity window. You've now made a recording of audio from Discord!
Bear in mind that this method will also record any other audio that your computer outputs, so don't listen to music or play a YouTube video on a different tab!
Once you have Audacity installed on your PC, open the program. When it opens it should look like this: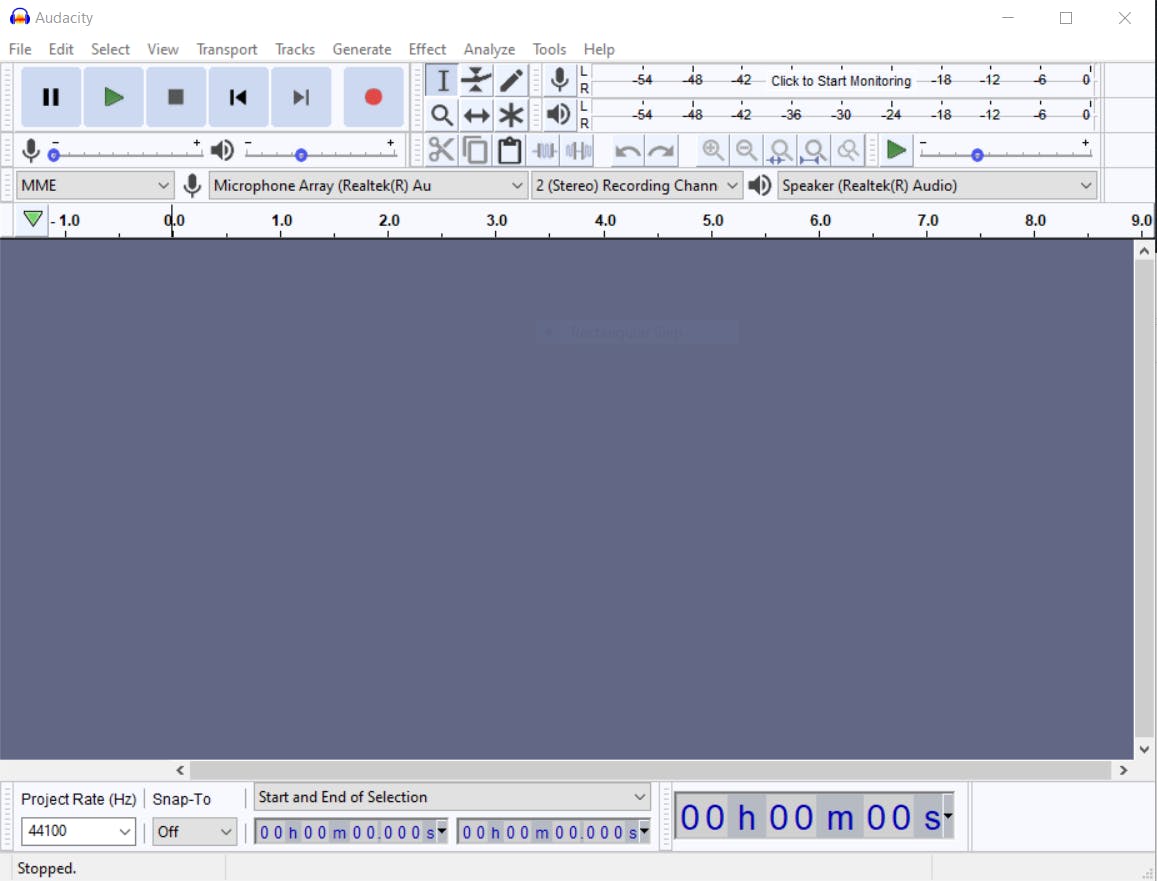 Look in the toolbar just above the timeline. You'll see MME, Microphone Array, 2 Stereo Recording Channel and Speaker. In order to record audio from Discord you'll need to change these parameters to: Windows WASAPI, Speaker (Loopback), 2 Stereo Recording Channels and Speaker.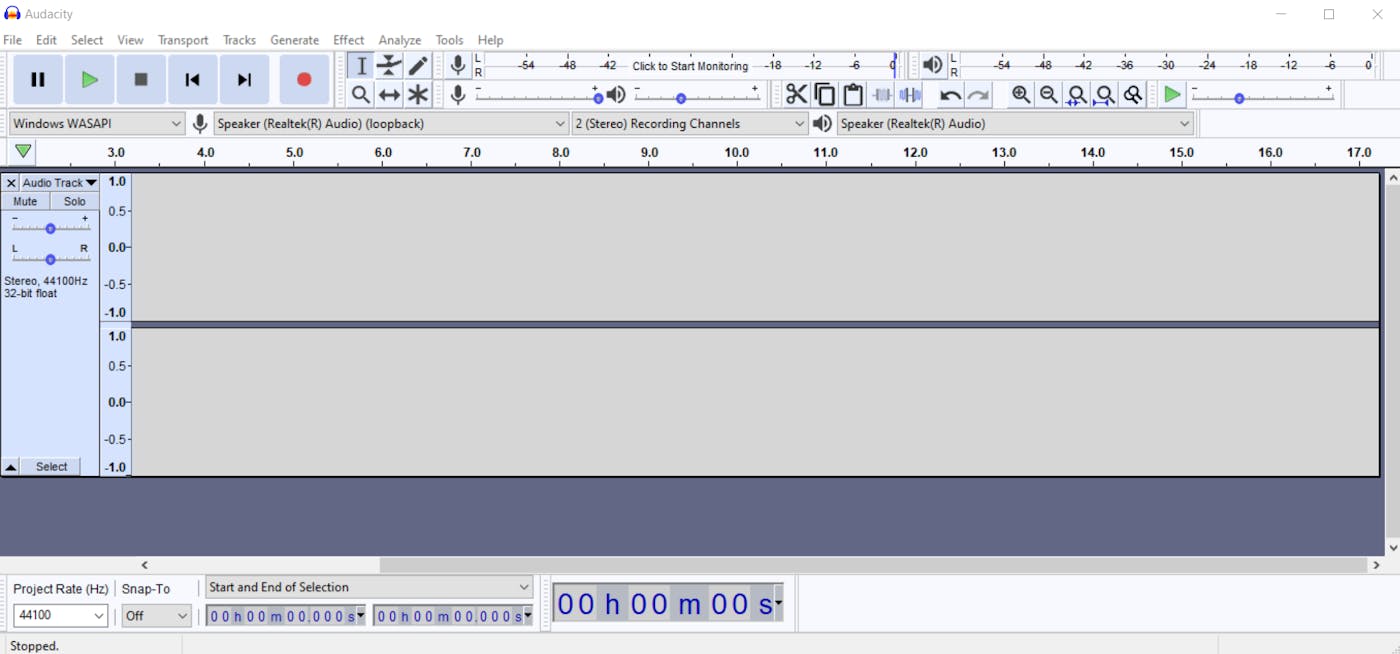 This will allow you to record your desktop audio directly into Audacity. Click the red record button on the top left of the screen. Audio is now being recorded. You can verify this by looking for waveforms in your timeline. Now you can use Discord however you like and any audio will be recorded.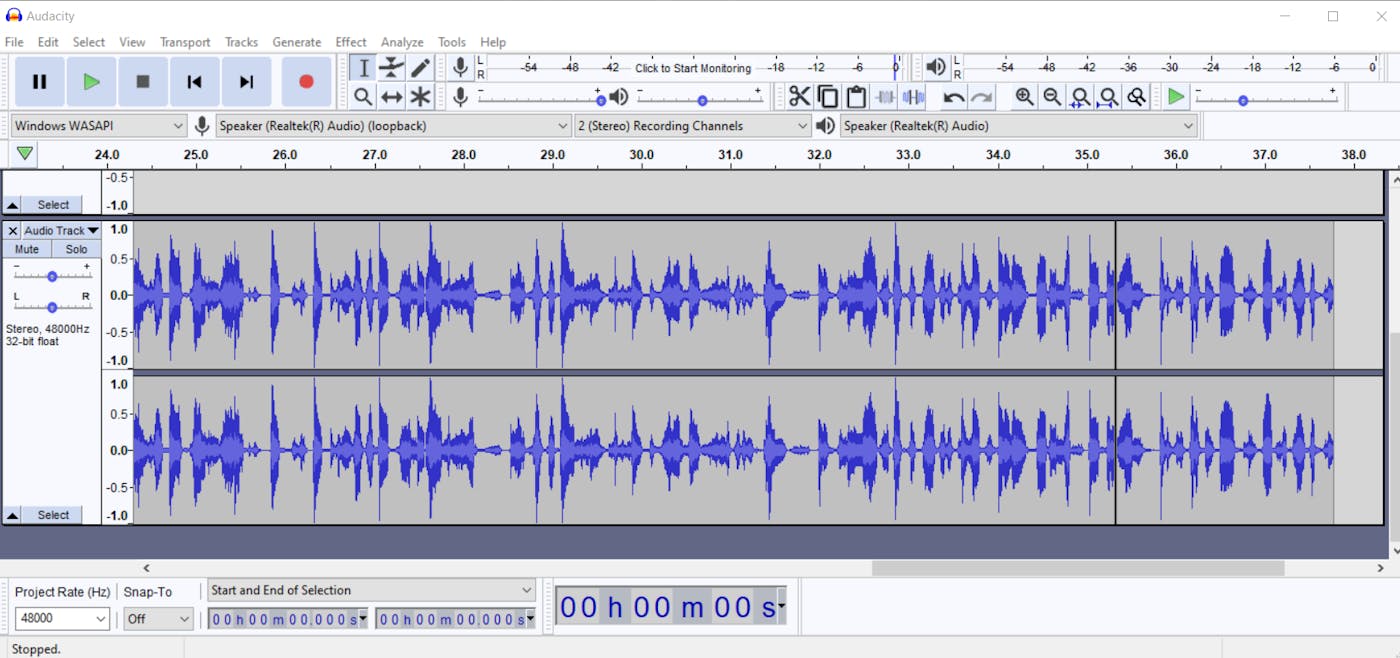 When you're finished, go back to Audacity and click the square stop button on the top left of the window. You've successfully recorded audio from Discord!
OBS Studio is another free and open source piece of software for audio and video recording, and live streaming. It can run on Windows, Mac and Linux. The audio recording process is a little different between operating systems - we will cover both Mac and PC here. If you don't have the program, head on over to the OBS website and download it for free.
A quick note about OBS is that it is actually more of a livestreaming and screen recording program as opposed to an audio recording program like Audacity. If you are interested in recording both the screen and the desktop audio (and any additional audio sources such as a microphone), OBS will get the job done for you. In this article, we will only cover how to set up OBS to record desktop audio without recording the screen. So let's get into the best way to record Discord audio with OBS Studio on both Mac and PC!
For the ultimate guide to recording in OBS, and a guide to using audio plugins in OBS, check out our blog.
Similarly to using Audacity on Mac, you will need an additional free program in order to record your system audio using OBS. In this walkthrough we'll show you how to record Discord audio in OBS using the program Blackhole. 
Blackhole, developed by Existential Audio, allows you to reroute audio from your system directly into Audacity - think of it like a virtual aux cable! You can download it from the Existential Audio website.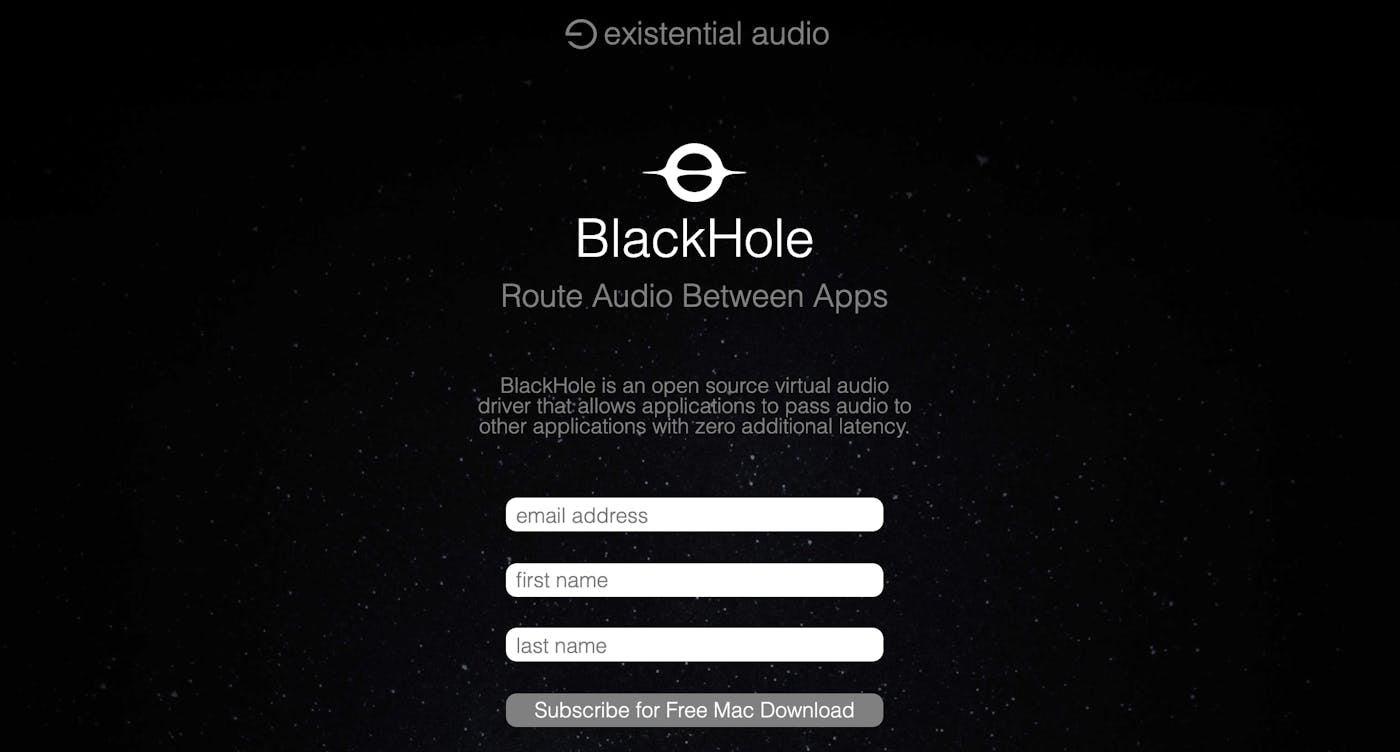 Next, we need to create a new audio MIDI Setup. This is so that we can record audio using OBS and monitor it at the same time. 
To do this, go into Applications, then Utilities and open Audio MIDI Setup. You may see Blackhole in there, but we need to make a new item, so click on the + icon at the bottom left. 
Choose 'Create Multi-Output Device'. Next, turn on Built-in Output (this may be called MacBook Speakers on your device) or External Headphones and Blackhole. Make sure there are no checks in the Drift Correction column and make sure the Master Device at the top is set to your computer speakers or headphones. You can easily rename the device by clicking on the name on the left and renaming it to 'OBS Audio Capture'.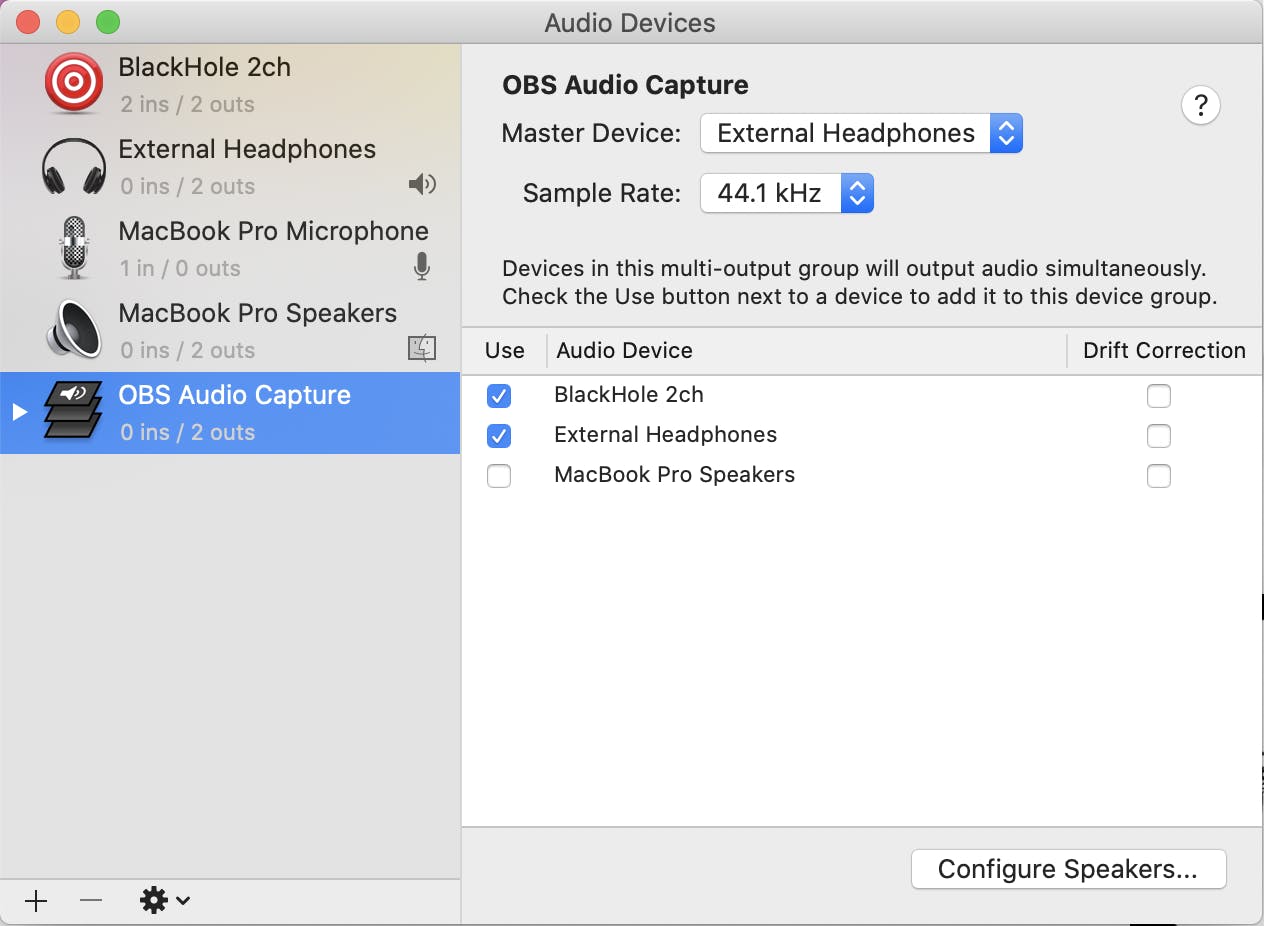 Next we need to set the computer to use the new output device. To do that, open system preferences, next open sound preferences. Select Output at the top of the window, then select 'OBS Audio Capture' (or whatever you called your Multi-Output Device in the previous step) from the list below. Now the computer is set to start recording audio.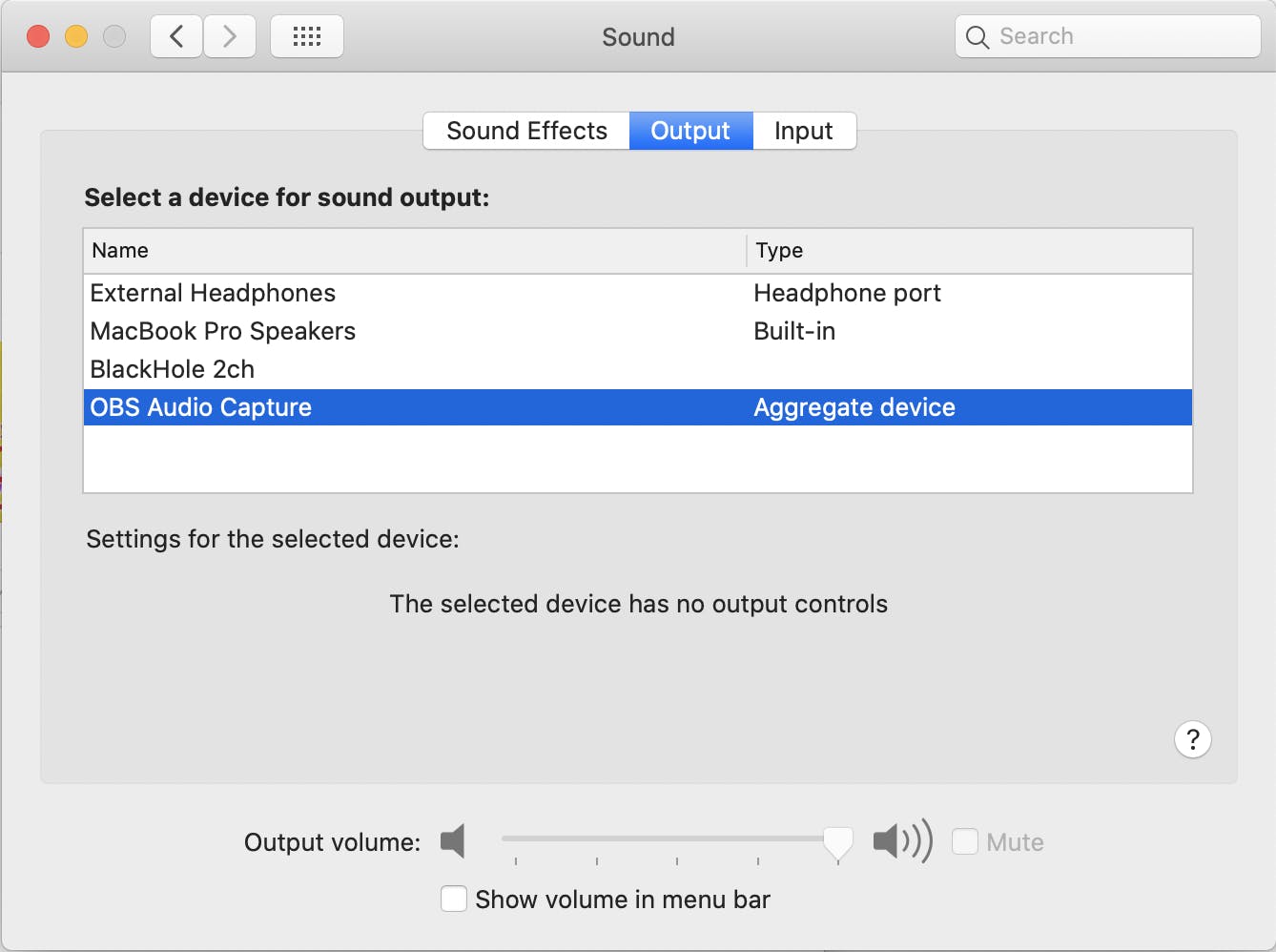 Once you have OBS Audio Capture set up, open OBS. 
Let's get OBS setup to record the computer audio. Start by going to the OBS menu at the top left of the screen, then down to Preferences. On the left hand side, select Audio, then on the right look under Global Audio Devices. Under one of the open Mic/Auxiliary Audio channels, click the dropdown and select Blackhole. Click OK when finished.

Back on the main screen of OBS, you'll see a section along the bottom that says Sources. Click the '+' and select Audio Input Capture. When you select that another window will open. Choose Create New, name your device and then press OK.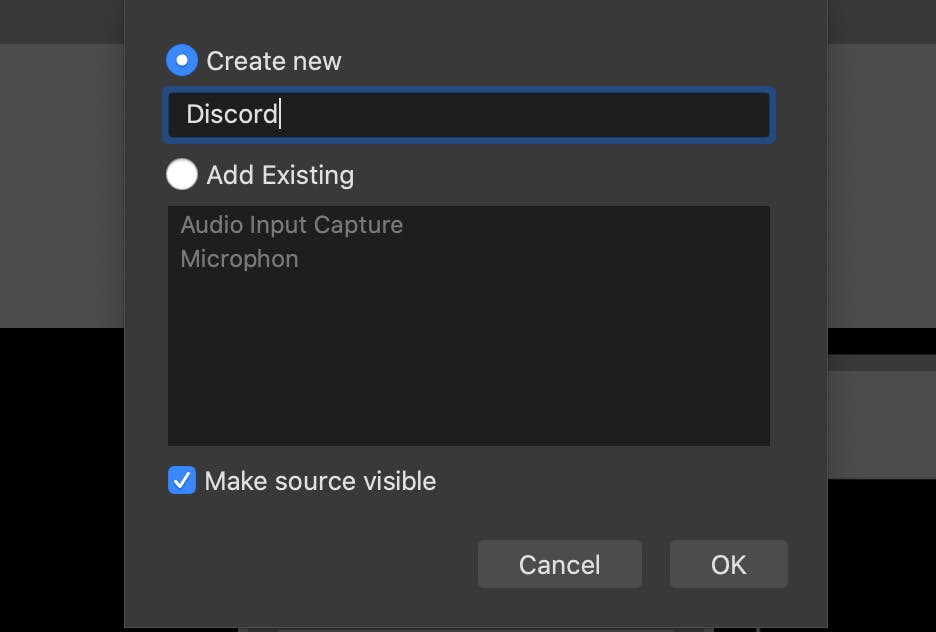 A new window will open. This window lets you select an audio source to record from. Click the drop down menu and select Blackhole. Press OK.

You are now ready to record your desktop audio in OBS. On the lower right side of the OBS window, select Start Recording to begin recording desktop audio. You can now go to Discord and record any sounds that come through your computer. You'll know audio is being recorded because you will see the audio meters moving in OBS.
When you are finished recording, press the Stop Recording button at the bottom right of the OBS window. You've now made a recording of Discord Audio! 
Once OBS Studio is installed, the first screen you will see is this: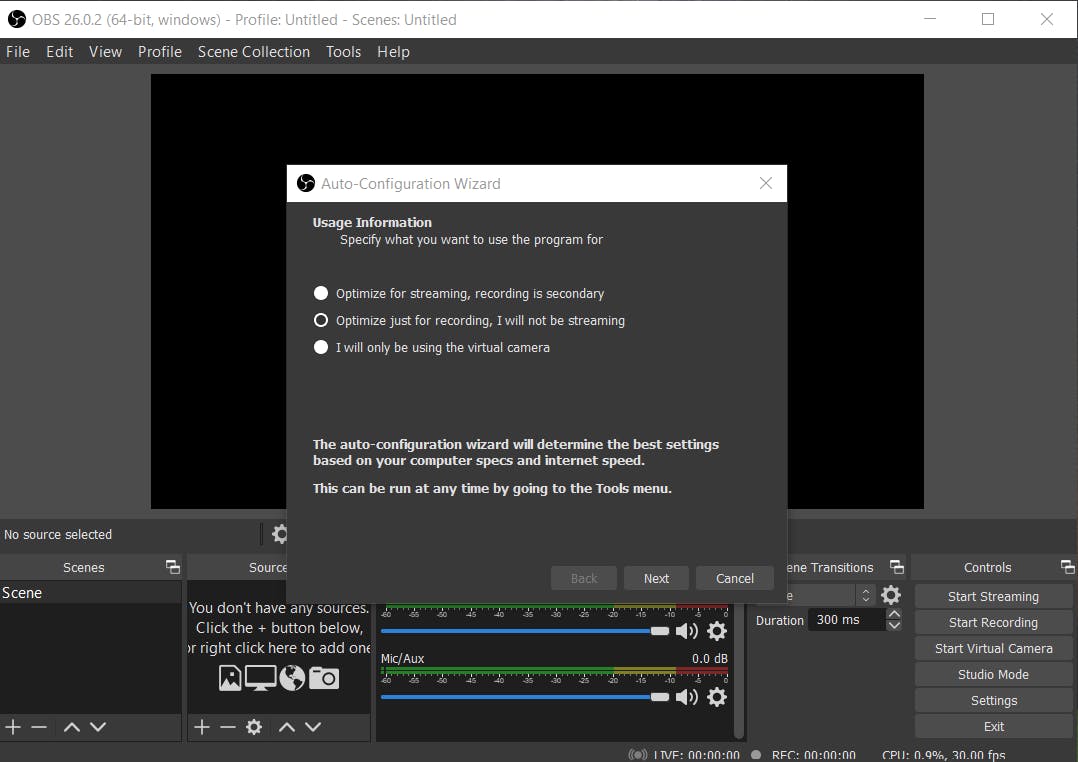 Select the optimization you prefer. We'll choose to optimize for recording. Follow the onscreen instructions until complete. Next, let's modify a few settings to record desktop audio in OBS. On the bottom of the screen under the Sources section, click the '+' icon and choose Audio Output Capture.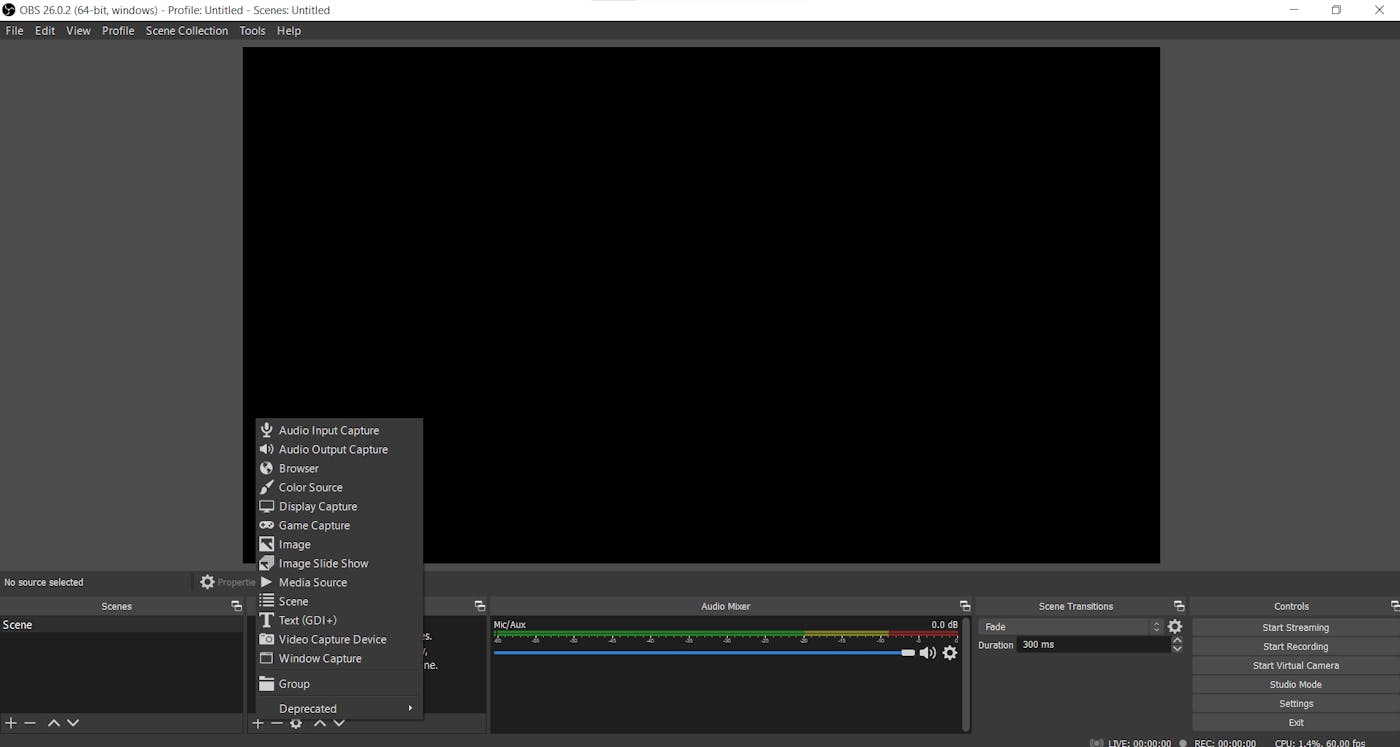 Next, select Create New and then add a name of your choice. We'll go for 'Desktop Audio'.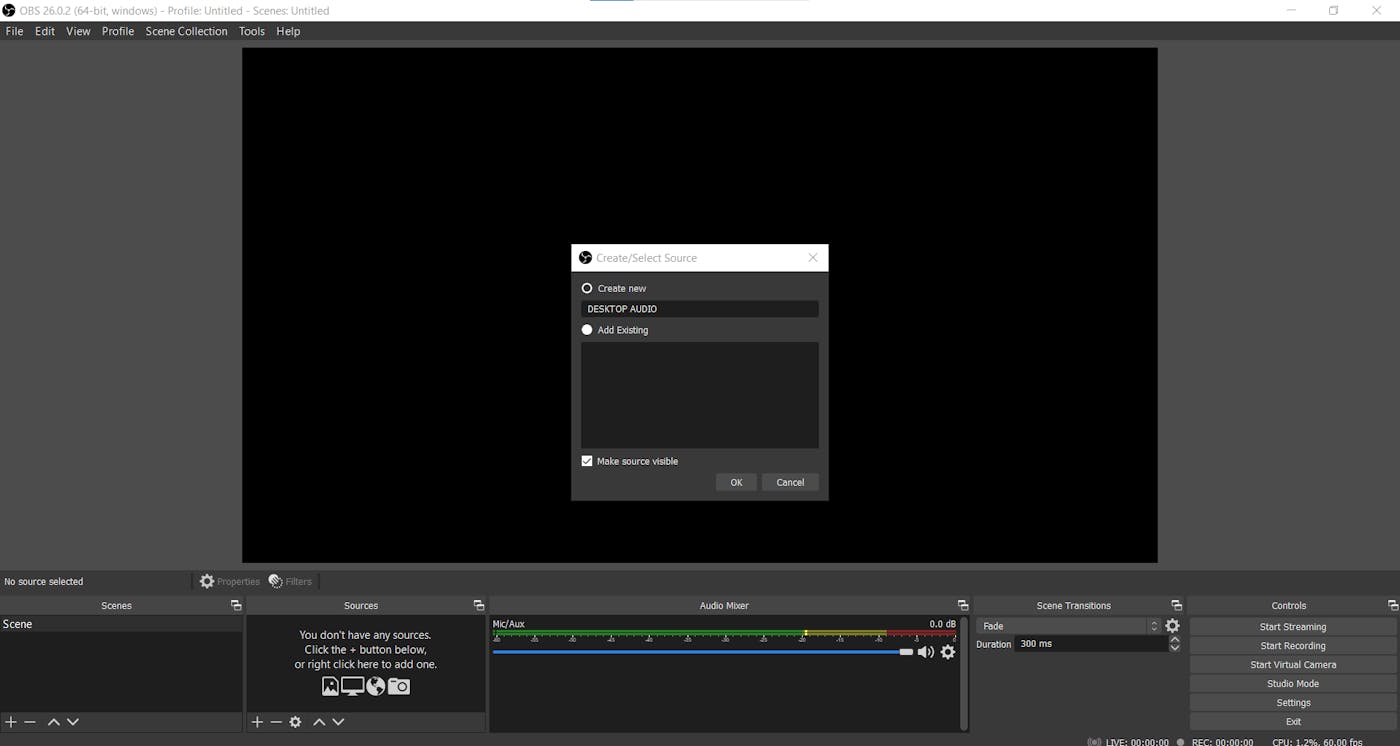 In the next window open the dropdown next to Device and choose Speaker, then press OK. OBS should now be receiving audio from your desktop. To verify, play some audio on your computer and look at the audio mixer at the bottom of the window. The meters should light up and be moving. Now just select Start Recording at the bottom right of the screen and you should be recording any audio that comes from your computer - including any audio played from Discord.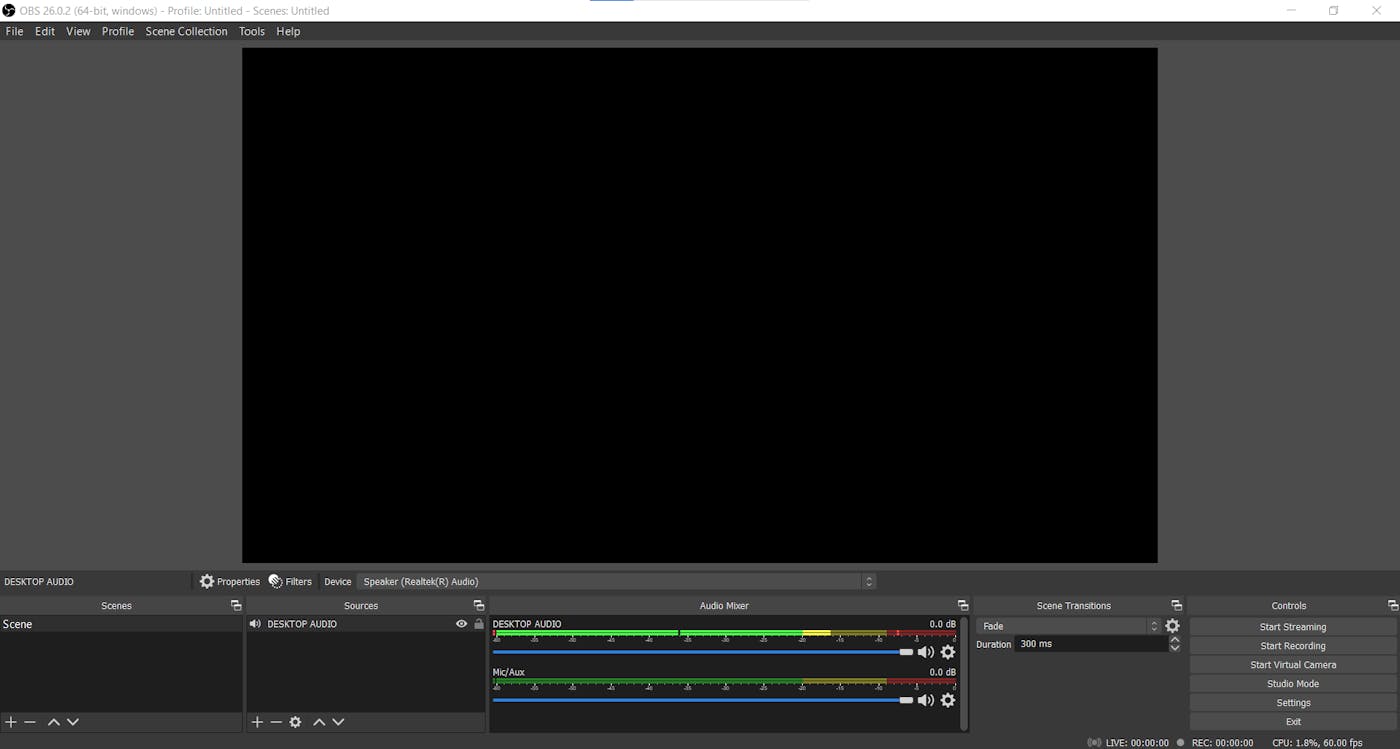 When you are finished recording, go back into OBS and choose Stop Recording on the bottom right of the window. 
December 15, 2020