Sound setting panel for Twitch
Learn how to perfect your Twitch audio setup and get the best audio for streaming
Twitch is the most popular streaming platform in the world. The most popular creators on the site are making more than $60,000 a month, and so a lot of people want to become streamers themselves. But if you want to stand out from the crowd and make a name for yourself on Twitch, you have to make sure you look and sound like a pro.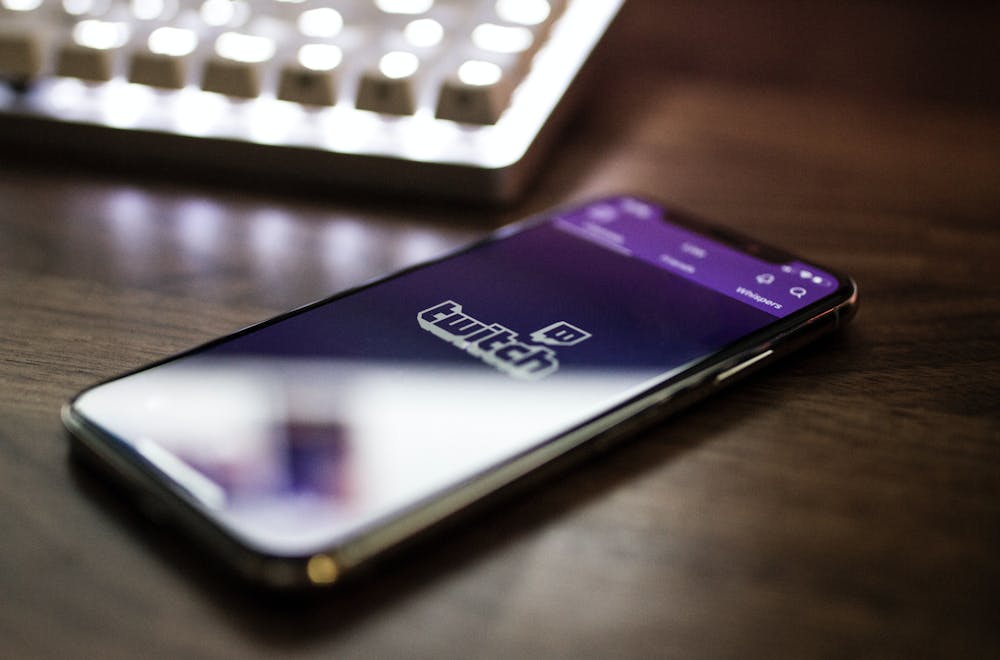 In this article we're going to help you get the best audio for streaming by showing how you should be setting up your audio, how to stop twitch audio delay, what to do if your twitch volume low and more.
We'll also take you through changing your settings, what to do if your Twitch audio not working and many more twitch audio tips and tricks.
In this section we'll guide you through setting up your audio and changing your settings to get the highest quality Twitch audio setup. Read on to learn 
How do I set up streaming audio?
Here we'll show you how to set up streaming audio in Twitch's own Twitch Studio broadcasting software. If you're using OBS Studio to stream on Twitch then you can read how to set up a microphone in OBS.
Setting up Twitch audio is very easy to do in Twitch Studio. When you first open Twitch Studio after downloading and installing the program you will be prompted to login. 
Once you have done this you will be asked to grant permission for Twitch Studio to have access to your computer's microphone and camera. Allow this.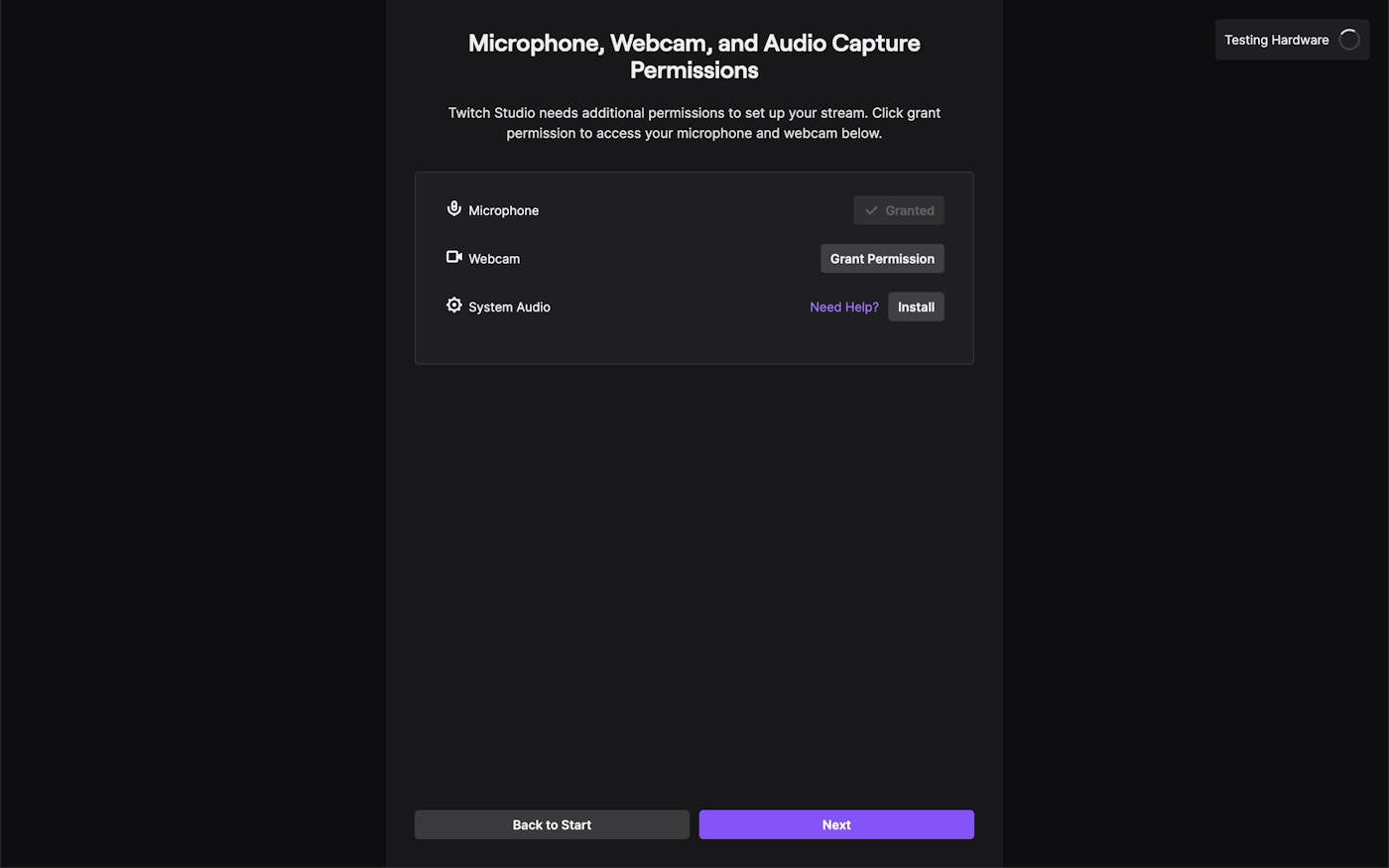 You will also need to download and install Twitch's Audio Capture Agent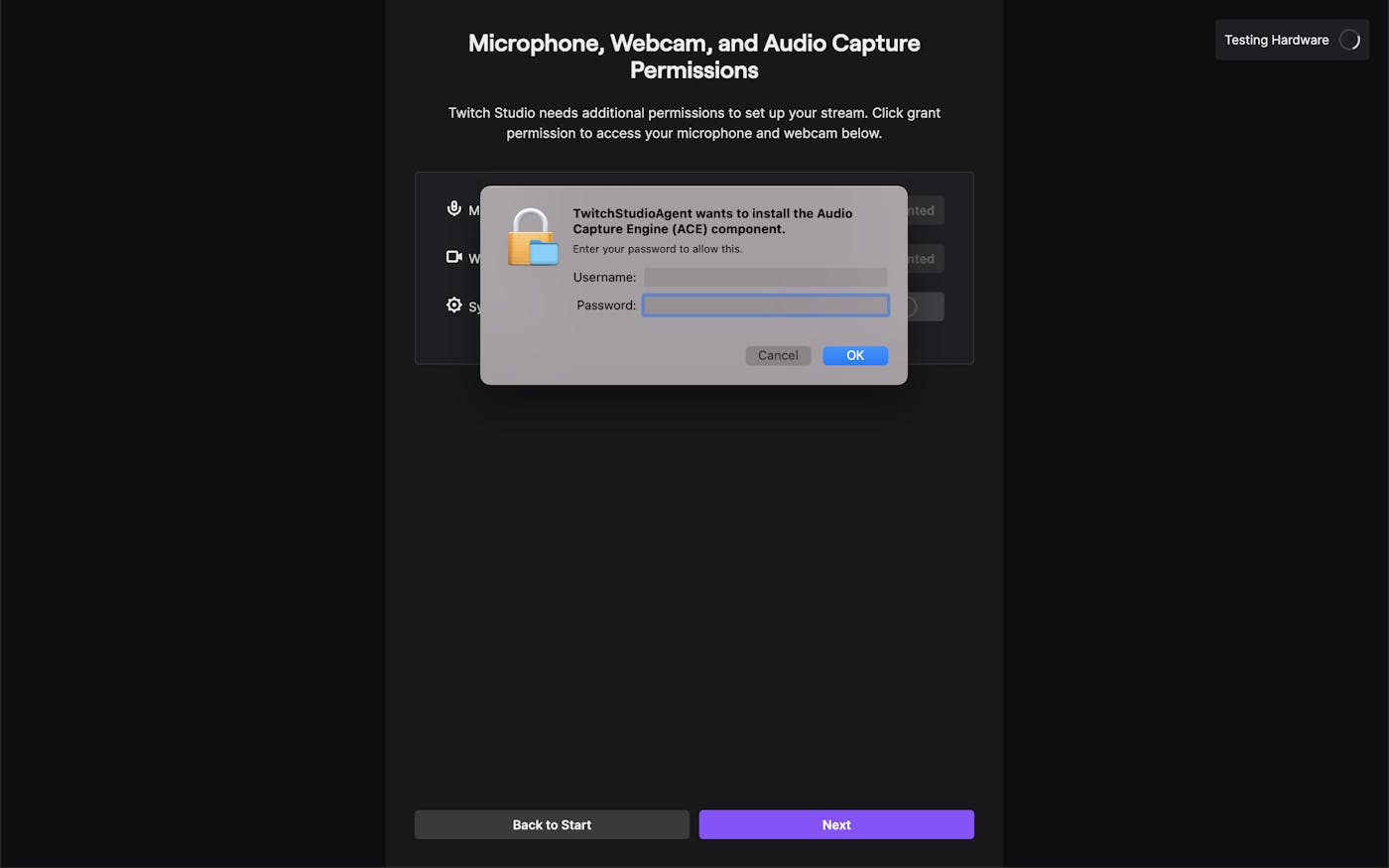 In the next window you will be asked to choose the default microphone for your Twitch stream. If you are using an external microphone for your stream, make sure it is connected to your computer and then click Change Mic. A list will open with all available audio devices. Select your preferred microphone and then press Continue to Scenes.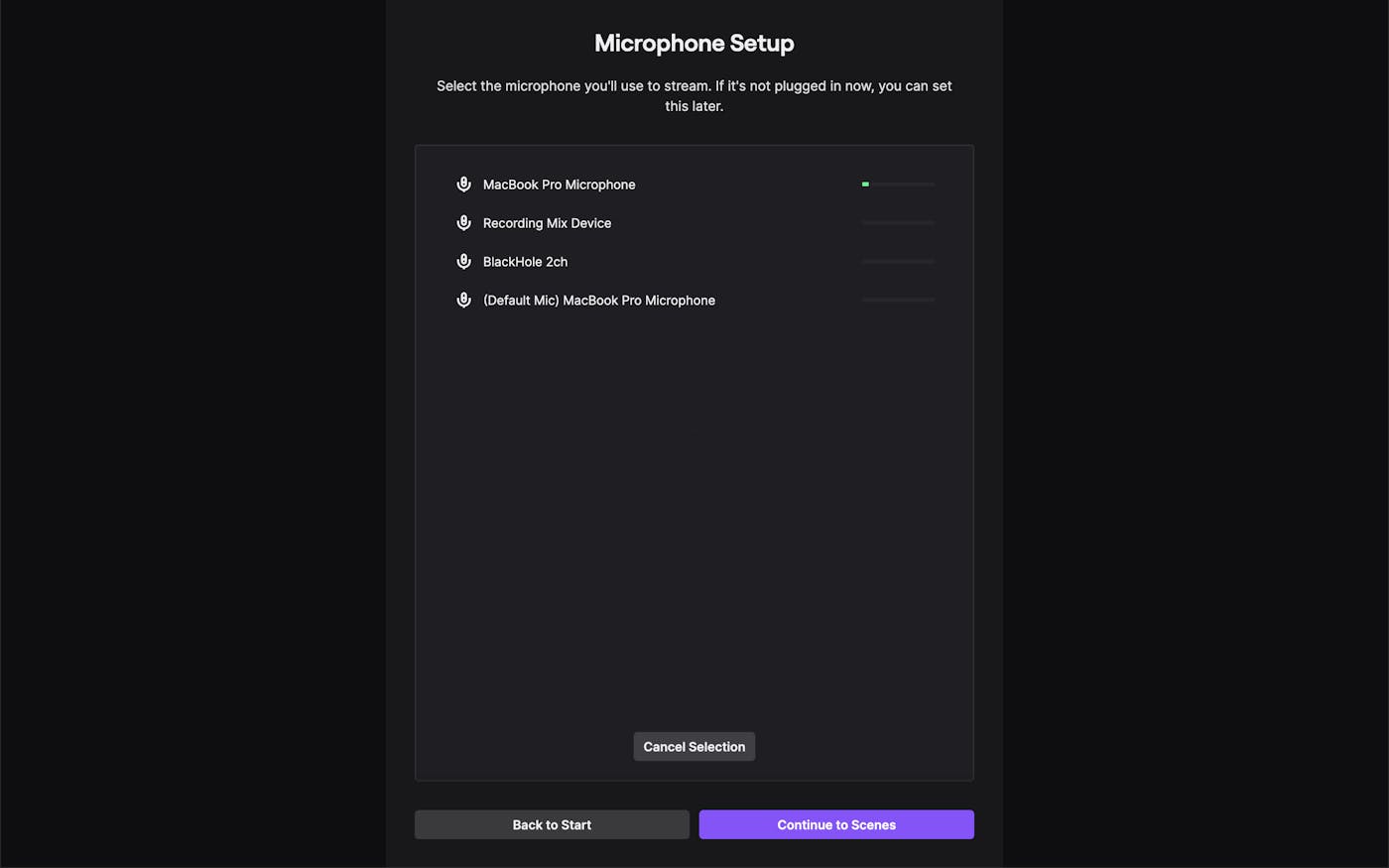 With the correct microphone selected you have set up streaming audio for Twitch. Now you can continue to set up the visual aspect of your stream.
If you are using a third party broadcasting software such as Streamlabs OBS or SplitCam the streaming audio setup process will be different. Please refer to your individual broadcasting software's website for streaming audio set up instructions.
How do you change the audio on a stream?
To change the audio of your stream in Twitch Studio, click the Audio Mixer icon in the bottom left hand corner of the Twitch Studio interface. This will give you options to change audio levels and mute and unmute audio channels. There is also a Gear icon which you can click to access additional settings. By clicking the Gear Icon you can:
- Convert audio to Mono
- Add or remove Audio Delay
- Add or remove a Compressor
- Add or remove a Noise Gate
- Add or remove a Noise Suppressor
The option to add or remove audio delay is very useful if your Twitch audio and video out of sync.
How do you get the best sound on twitch?
If you want professional quality audio for your twitch stream, perhaps the most important thing to do is to invest in a good quality microphone. Even with the best Twitch audio settings, your audio will never sound professional if you're just using your computer's built in microphone.
You don't have to spend lots of money to get a good sounding mic, you can get USB microphones starting at around £30. That said, you do tend to get what you pay for when it comes to microphones, so it could be worth investing a little more money.
It's worth doing some research into the different types of microphones out there and which is the best microphone for streaming for you. The best microphone for streaming will depend a on your personal needs and budget. 
However, getting the best sound on Twitch isn't just about having a good microphone. You can also tweak the audio bitrate at which you stream to get better audio for your audience.
What audio bitrate is good for twitch?
For high quality audio, Twitch recommends that you stream at atleast 128kbps, but for highest quality Twitch audio you can stream at up to 320kbps.
What is the best bitrate for Twitch?
If you want your audio to stream at the best possible quality, the maximum bitrate you can stream at is 320 kbps. However, the best audio bitrate for you will depend on your internet speed.
If your upload rate is quite slow then it's better to stream at a lower bitrate. This way your stream will be more stable. Most viewers won't recognise the difference between 128kbps and 320kbps. The only time when they might is if they are audiophiles listening on a very good home audio setup, or if you are a music streamer and people are expecting really high quality audio from you.
Best microphone settings for Streaming
No matter which microphone you use to live stream on Twitch, there are a few basic techniques you can use in order to get the best sound from your microphone. We have a comprehensive guide to recording audio that covers setting up properly for recording, recording technique and microphone positioning which is definitely worth a read. However, we'll quickly go over the essentials here.
Setting input gain
Setting the input gain of your microphone correctly is one of the most important microphone settings for streaming. If you're using a USB microphone the input gain dial will most likely be found on your microphone itself. If you're using an XLR microphone that is connected to your computer via an audio interface, the input gain will be found on the audio interface.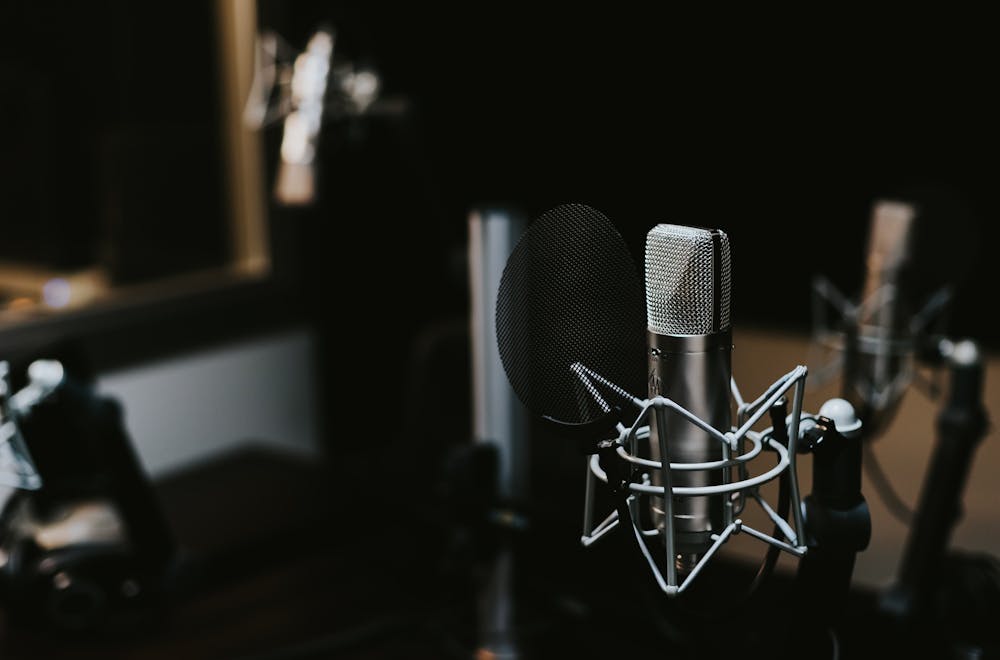 You need to set the input gain high enough so that your audio is loud, but not so high as to cause clipping. Clipping is when incoming audio goes above 0dB. This is never a good thing as it results in distortion which sounds unpleasant and unprofessional. It's a balancing act, you have to find that sweet spot where you have loud but undistorted audio.
Microphone positioning
The position of your microphone relative to you or any other speaker on your livestream is essential to getting good sound. A lot of people believe that you should position yourself as close to the microphone as possible, however this is not true.
If you're too close to the microphone, your voice can become really bass heavy which can make it less clear and harder for people to understand. This is due to the proximity effect.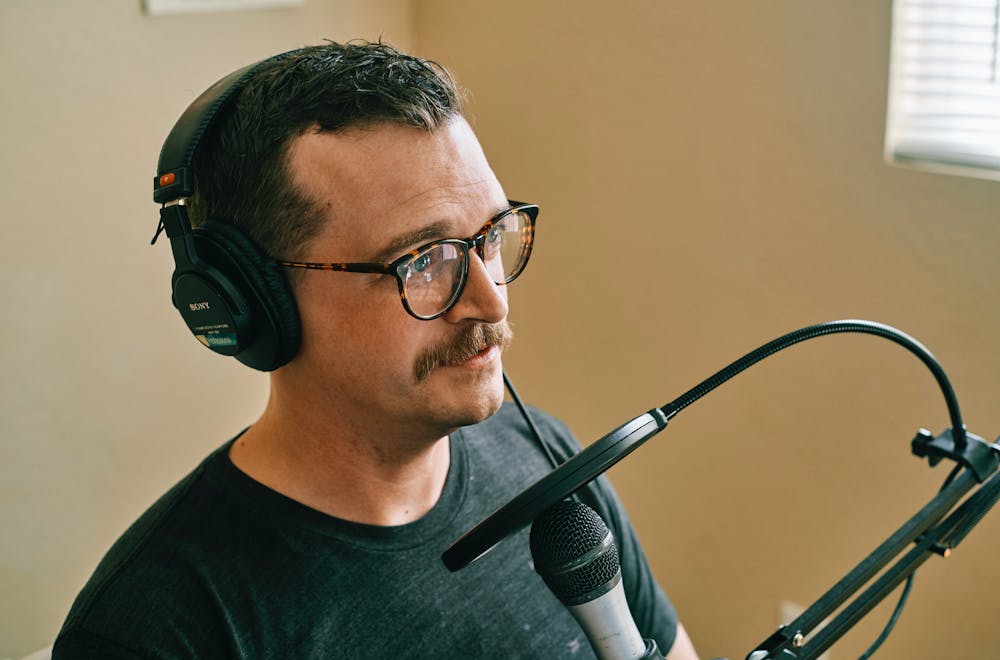 However, you don't want to position the microphone too far away from your mouth as the greater the distance between you microphone and mouth, the more background noise you will get in your Twitch audio. 
Like setting input gain, getting correct microphone positioning is all about finding a perfect middle ground. A good rule of thumb is to position your microphone about six inches from your face. This will give you a great sound in most cases.
It's easy to use an audio interface when streaming with Twitch. When using Twitch Studio all you have to do is click the Change Microphone button and select your audio interface - it's as simple as that.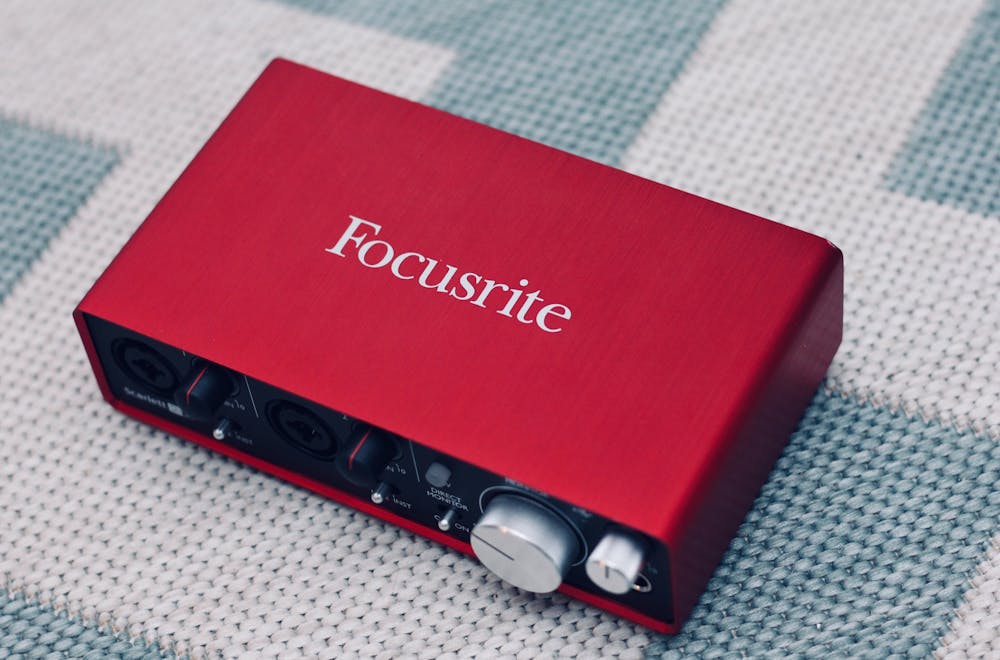 To set up an audio interface with OBS Studio you simply have to create a new audio capture input and select your audio interface as the audio source.
If you're streaming to Twitch using a different third party application such as Streamlabs OBS then you will need to look up how to set up an audio interface using your specific program.
It's important to know that your Twitch audio is clearly and not buffering in your livestreams so that you can focus on creating great content, and not spend your time worrying about technical problems. The best way to check this is to do a test stream where you can sound check your Twitch audio. 
Twitch provides a platform called Twitch Inspector where you can check your stream quality and make sure that you're not having stream quality or connection issues. 
To test the sound quality of your Twitch stream add "?bandwidthtest=true" to the end of your stream key. Now when you go live, your broadcasting software will push the stream to Twitch Inspector. Inspector will analyse your steam and let you know about any potential audio issues.
How do I make my Twitch stream better quality?
Here are a few way to make your Twitch stream better quality:
- Use a high quality camera
- Learn how to use your broadcasting software well
- Set your video and audio quality setting as high
- Personalize your stream with unique audio and visual design
Should I stream 1080p or 720p Twitch?
If you want your stream to look as good as possible, you want to be streaming at 1080p. Twitch allows streaming at 1080p at up to 60fps so you can stream in HD at high frame rates. To stream at this quality you will need an upload speed of 7.4 Mbps.
However, if your internet isn't quick enough to support 1080p streaming then it's a good idea to stream at 720p. It's much more important to have a smooth, stable stream than to stream in full HD.
How can I improve the sound quality of my stream?
There are several ways to improve the quality of your stream:
- Use a high quality microphone
- Make sure your audio isn't clipping
- Increase the bitrate of your stream
- Use high quality royalty free background music
- Use high quality royalty sound effect 
We've got loads more information about livestreaming on our blog. Head over there now to learn how to use VST plugins in OBS, how to stream live with Discord, how to get the best stream settings for Mixcloud Live and more.
November 09, 2021
Related articles
An introduction, guide and how-to manual for one of Twitch's most exciting new Extensions. Start setting up alerts, customizing sounds and boosting your ratings with our complete guide!
Restream is a service for simultaneously going live on sites like Twitch, YouTube and Facebook. Learn how to stream on Restream optimally with this quick guide! From your Restream audio setup to broadcasting.
Don't let troublesome audio ruin your streams on Facebook Live. In this guide we tell you everything you need to know to sound your best!