YouTube Analytics: Everything You Need to Know in One Place
Translate your YouTube analytics data into actionable advice. See how you can make the most out of your YouTube channel's numbers, and grow your audience faster
You might be a creator, a left-brain user, but sometimes, you need to develop a strategic, data-oriented mindset. However, if you want to succeed on YouTube, and numbers are not exactly your strong suit, the YouTube analytics tool does all the heavy lifting for you.
You might be monitoring trends, watching hours of videos that are trending, and keeping your eyes open. But the reality is that your channel's YouTube metrics should be your one and only guide you through your whole YouTube journey.
Hidden under your YouTube Studio dashboard, right on the left sidebar, the YouTube Analytics app is the tool where the truth about your channel and your popularity unfolds. Get all the data you need to succeed in a digestible, visually appealing way — yes, you can even access the YouTube analytics app on mobile.
But there's a catch — there's always one, right? YouTube shows you all the data you need, but you are the one who needs to analyze them and translate them into actionable advice for your channel. 
In this post, you'll learn how to do it right.
If there's one thing Google can do well, it is data collection. And since YouTube is part of Google's web monarchy, you can make sure that your channel and YouTube analytics metrics are accurate.
The YouTube analytics tool is based on data collection. Content creators can use this data to monitor successes, failures, things they do well, as well as things they could better avoid. Creating perfect videos (perfect can also be very subjective, by the way) is not enough to grab your audience's attention and go viral. You need to keep an eye on your YouTube channel metrics to see what your viewers like and want.
Think of YouTube analytics as a couples therapy between a creator and their fans.
If you already have a YouTube channel, you've probably already accessed this hidden place, and you were simply too afraid to play with it. Plus, YouTube has a weird habit of changing the YouTube Analytics app layout all the time, so you can easily lose track.
To access YouTube Analytics and see your YouTube video metrics:
Log in to your YouTube account. 
Click your profile avatar on the top right.
Click YouTube Studio.
From the left menu, select Analytics.

And that's it. You're officially in. From here, you can now click on different tabs based on the YouTube statistics you want to examine, see how your channel (or each one of your videos) performs, and a ton of other interesting data.
We'll take a look at them together in a moment.
You're right. Just the interface of the YouTube Analytics app can be really intimidating to a beginner in percentages, data visualization, graphs, and so on. Plus, there are so many tools for YouTubers that you can easily get lost.
So, let's take a look at the exact numbers that are worth your attention and will help you measure and understand success.
1. Overview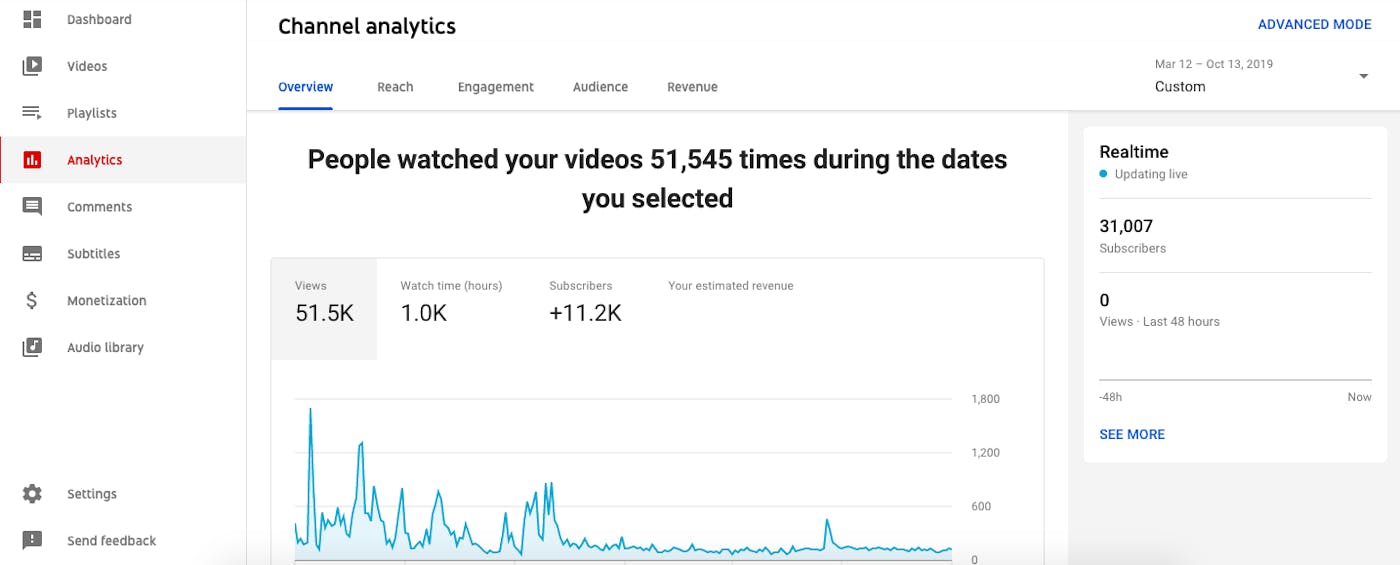 This is the place where you can see everything at a quick glance. Even if you have no time to look at data, "Overview" is where you can get all the necessary YouTube data and statistics you need about your channel's performance.
You can set a specific period and track your views, see which videos perform best, how the number of your subscribers is growing, as well as develop a complete YouTube Analytics revenue report. What's cooler, though, is that you can also look at your YouTube numbers in real-time, and what videos are being watched at the moment.
Take a moment on this YouTube analytics tab and see which videos have gathered a decent amount of views. Track your average view duration — one of the most fundamental YouTube engagement metrics that shows how far into the video your viewers have gone.
These small details will tell you what your viewers expected when they clicked your video, what kept their attention, and what made them click another thumbnail.
Start here. Then, you'll be ready to move on to the rest of the tabs that will give you a detailed overview of what is going on with your channel. YouTube analytics for channels include:
Reach
Engagement
Audience
Revenue
And this is where the magic happens.
2. Reach

"Reach" is a popular term that all social media marketers use these days, and it basically refers to how many people got to see your content and reacted to it. In "Reach," you have ten different engagement metrics in the YouTube Analytics app to keep an eye on. Here are the first four:
Impressions: The number of times viewers have seen a thumbnail of yours. 
Impressions click-through rate: Now that you know how many potential viewers saw your thumbnail, you need to observe the percentage of those who actually clicked on it. This helps you figure out whether your thumbnail and video title are catchy or not. Jot it down: This is one of the most critical YouTube video metrics.
Views: Quite self-explanatory, but it's the total number of views your channel or a specific video has gathered. This doesn't talk about viewers rather than the video views, no matter the number of viewers they come from.
Unique viewers: Now, we're talking about actual people. Not views but viewers. If, for example, 100 users saw your video twice, your total view number is going to be 200. On the other hand, your unique viewers are going to be 100. This can help you build some fascinating hypotheses. If, for example, you've got thousands of views but only some hundreds of viewers, your audience is engaged and watches every single video you upload. If it's the other way around, viewers watch your content, and you never hear back from them. So, you need to do something to engage them.
This is a perfect example of how to read YouTube Analytics.
Right beneath the metrics we just talked about, you get to see traffic sources, which refers to the places where your videos were discovered and from. Here, you can monitor the websites where users found your videos, playlists that perform best, other videos that your content appeared as suggested, and the exact YouTube search queries that users used to land on your page.
All in all, Reach helps you get the vibe of what is going on and what social media and promotion strategies are worth your attention. Think of it as a channel and YouTube - social media analytics tool and a way to figure out how to promote your YouTube videos.
3. Engagement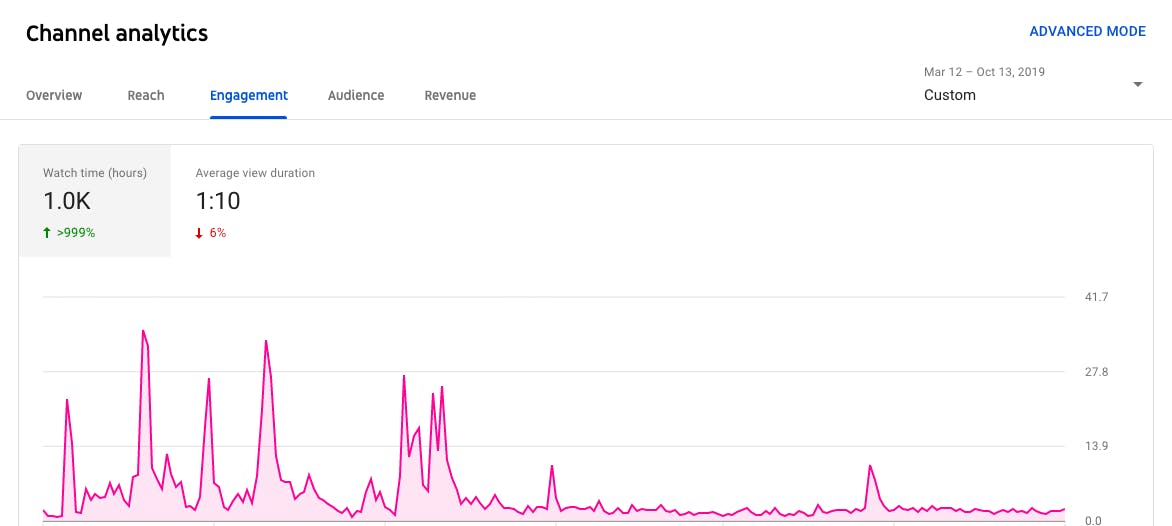 Apart from a search engine, YouTube is also a social medium. And YouTube Analytics data can't differ from the typical social media metrics. Engagement is one of them. 
Online content is all about engagement, and by measuring it, you get to know what type of content is worth your attention, what videos you should avoid, and which ones make your audience happy — don't you just love the YouTube analytics app already?
First, you have watch time, which shows how many hours of your total content viewers have watched. If, for example, you usually upload videos that are 10 minutes long and your average view duration is like a minute, it means that you have to cut to the chase faster.
The YouTube metrics right below the graph show you which videos perform best in terms of engagement and watch time. Watch them with a clear mind, see what you did right, and use the same strategy in all your videos to increase view duration and engagement.
4. Audience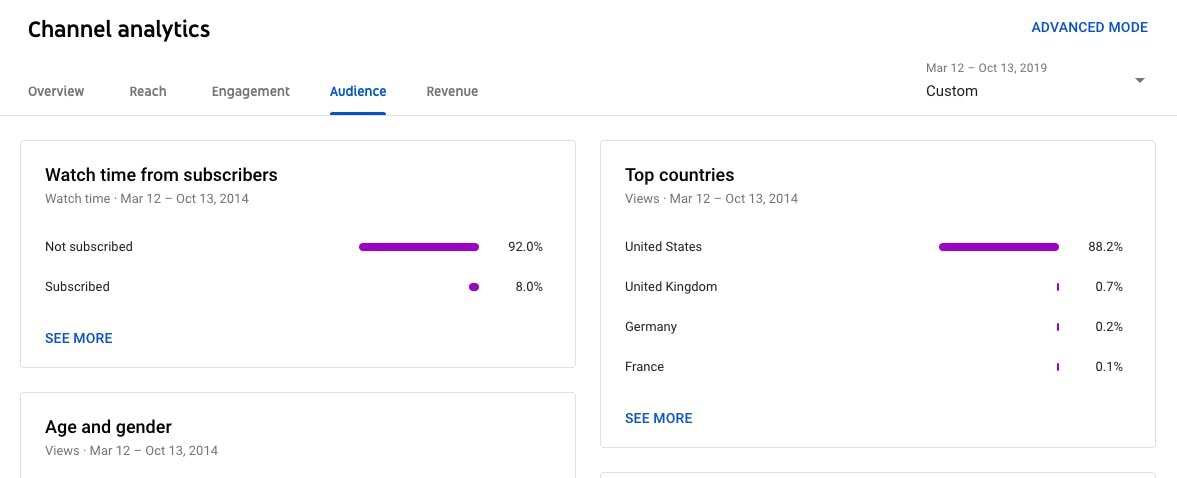 Welcome to the creepy side of YouTube Analytics. The YouTube Analytics subscribers might not even know it exists.
Hands down, there will be no other YouTube Analytics software tool (free or paid) with all this information about who watches your videos. And this is a YouTube channel statistic you definitely want to keep an eye on.
For starters, in Audience, channel administrators can see how many viewers and subscribers their channel has gathered over a specific period. Then, they get to categorize viewers based on engagement by looking at the average views per user. 
But it doesn't stop there.
Scroll down on the same page, and you'll get to know much more about your audience. From the time of the day they're on YouTube to some YouTube analytics geography information. More specifically, you can check how many of your viewers have subscribed to your channel, their age, gender, region, as well the subtitles they might use.
Getting familiar with YouTube Analytics demographics allows you to understand who you are talking to through your content as well as what they need. 
Here are some demographic-based strategies you can implement:
If most of your viewers are not subscribed to your channel, you can simply remind them to hit the "Subscribe" button.
Also, tons of research has been published about the type of content each gender watches. Did you know that most women watch entrepreneurial videos, for example? Look at your viewers' genders and plan your content accordingly.
By monitoring the time of the day that your viewers are on YouTube, you can create a schedule and publish your videos at a specific time and day to increase engagement.
Thinking of your viewers as actual human beings will allow you to speak with them directly, address their needs, and turn them into real fans.
5. YouTube Analytics Revenue Report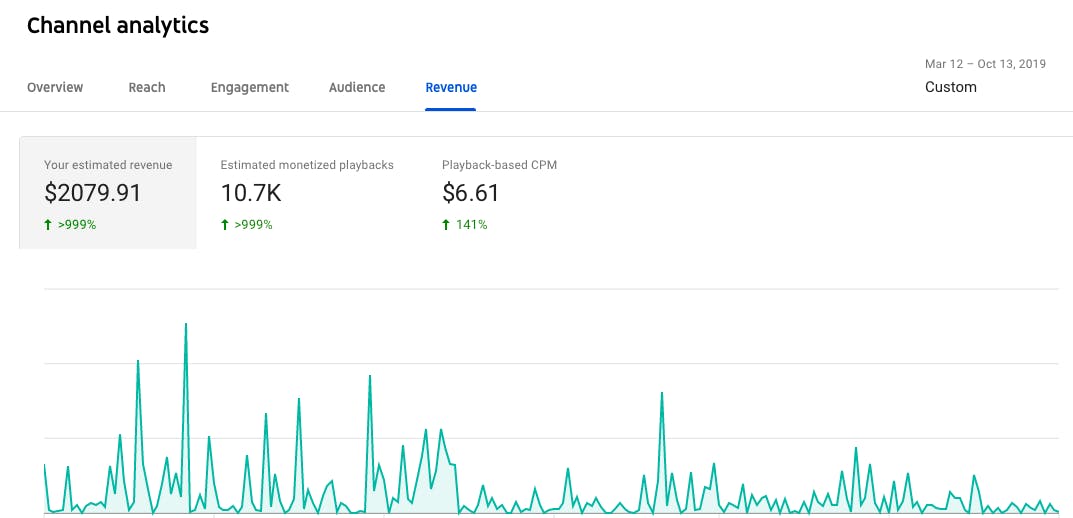 YouTube is no longer just a hobby. It's a complete business model with hundreds of creators earning a living from Google's most prominent video platform. In other words, people do make money on YouTube.
So, when the money enters the game, you need to make even wiser decisions to increase your revenue. And this is feasible with the YouTube Analytics revenue report.
Get a complete overview of the type of content that performs best in terms of revenue. Check your estimated profit and get a personalized projection of how much money you'll earn if you keep doing what you're doing now.
But there are two main pieces of YouTube data you need to keep looking if you want to earn even more: Top-earning videos and ad types. These little fellas will help you understand what types of videos you should be producing and what ad types you should include in your videos.
Too simple for you? Ok. Here's more YouTube Analytics app tricks.
Click on each one of the top-earning videos on the right column. Now, the whole YouTube Analytics interface has changed, and it shows data specifically for the video you just clicked. 
Check who's watched them, where they come from, how long they stayed. These will help you get a better understanding of what types of your audience actually click on pop-over and pre-roll ads. Now, target them.

Hopefully, by now, you know how to translate numbers into a complete analysis. But wait, there's more. Much, much more.
On the top right of your YouTube analytics screen, there's a button that reads "Advanced Mode." Click it, and a new window pops up, which allows you to answer all the questions you might not have been able to answer. This is the YouTube statistics, data, and metrics Holy Grail.
With advanced mode, you get to know everything in detail, compare how videos perform against each other, as well as create different demographic groups that will help you distinguish fans from viewers.
However, you want to take it slow, so you don't feel intimidated by the extensive information hiding there.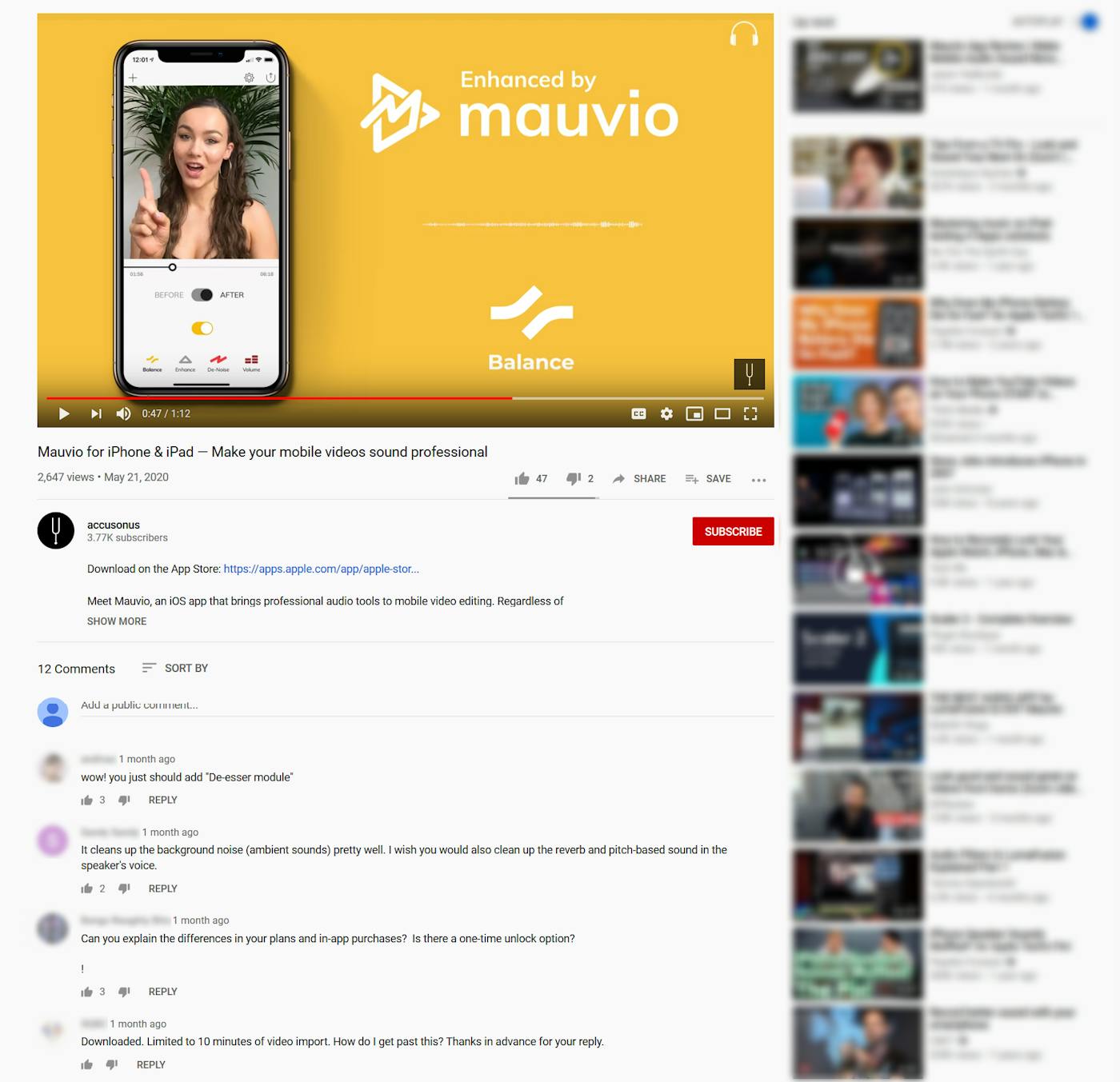 We've talked a lot about quantified data on YouTube Analytics. Numbers, percentages, sums, and averages. It's time to dive into the qualitative research that most YouTubers and creators forget about. We're talking about comments.
With Youtube Analytics, you can track metrics on your performance; with comments, you can form data beforehand. Comments on YouTube are not just a great way to interact with your audience and increase engagement, retention, and communication. It's also a great source of data to figure out what real viewers want before you even get to experiment. 
Be on the lookout for video requests, suggestions, criticism, positive and negative feedback. However, going through dozens of comments can be quite exhausting. But luckily, this glorious place called the Internet has a tool for almost everything. 
TubeBuddy's Comment Word Cloud is perfect for this. Simply install the Google Chrome extension and let the tool generate a word cloud of the most common terms found in your video's comment section.
You're a creator, and you might be using YouTube to express yourself or as an easy way to promote your business. And it's completely fine, but neglecting or having no idea how to check YouTube Analytics will only lead to lost time and frustration.
Start by checking your channel's metrics and tracking achievements and flops. Experiment, test, try, fail, and then succeed.
Don't let numbers and statistical jargoning scare you off. Try to understand them. Look for recurring patterns, let the data speak to you, and have fun!
July 01, 2020
Related articles
How to google reverse video search, find a video's original source, and reverse search a video via Berify. Searching for video has never been easier!
What's the best video file format for YouTube? Learn the ins and outs of bitrate, YouTube aspect ratio and more with this guide
Your YouTube videos need an audience. Take a look at how to beat the drum for your content and promote your YouTube channel for free.